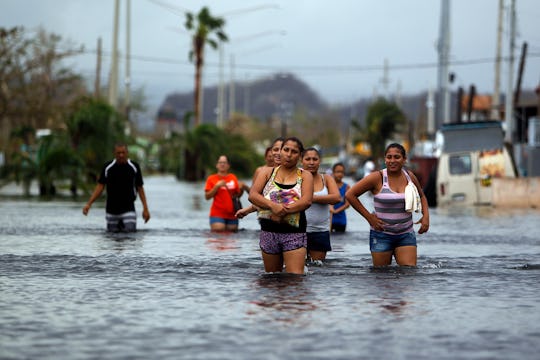 RICARDO ARDUENGO/AFP/Getty Images
Trump Blamed Puerto Rico For Hurricane Maria's Destruction For The Most F-ed Up Reason
It's hard to ever be really surprised at President Donald Trump's reaction to everything, but sometimes he really outdoes himself. Last week, Puerto Rico was hit by Hurricane Maria and most of the island still remains without power or cell phone service. It is a humanitarian disaster that many Americans were waiting for the president to address, somewhere in between his tweets over the weekend about the NFL and protests. When he finally did tweet about the crisis, Trump seemed to blame Puerto Rico for Hurricane Maria's destruction, as if the island were at fault for the weather. Romper has reached out to the White House for clarification and is awaiting a response.
It's entirely possible that Trump learned on Tuesday that Puerto Rico is actually a territory of the United States (just like the U.S. Virgin Islands, which has also been affected by hurricanes this season) and that its people are Americans who vote in elections.
Alas, he treated Puerto Rico with disdain. In a series of tweets he wrote:
Texas & Florida are doing great but Puerto Rico, which was already suffering from broken infrastructure & massive debt, is in deep trouble. It's old electrical grid, which was in terrible shape, was devastated. Much of the Island was destroyed, with billions of dollars owed to Wall Street and the banks which, sadly, must be dealt with. Food, water and medical are top priorities - and doing well. #FEMA.
Twitter responded quickly to Trump's disparaging remarks, scolding him for seemingly blaming the island for its humanitarian disaster. Puerto Rico, again, is an American territory with the population of about 4 million people. There are states, like Iowa, for example, that have fewer people in it. If a small area of that state had suffered the same devastating effects of the hurricane and were without power an drinkable water, it's hard to imagine Trump would have responded in the same way.
Either way, his initial response is shocking. The president should still not be blaming any country, let alone a territory of the United States for a humanitarian disaster. Empathy is what people are looking for here and Trump failed to provide it.
In lieu of empathy, former Secretary of State Hillary Clinton had some tactical advice for the president, at least, tweeting on Sunday. "President Trump, Sec. Mattis, and DOD should send the Navy, including the USNS Comfort, to Puerto Rico now. These are American citizens."
Following his tweets, Trump said on Tuesday that he would visit the "literally destroyed" island next Tuesday, explaining that he and his team don't want to disrupt the relief effort. Most of the island is without power or running water. Trump explained to reporters at the White House, "Now, in many cases, it has no infrastructure. These are great people. They are wonderful people. They are hardy people. They will be back."
Trump added that the administration's response in Texas and Florida received "A+" marks, according to The New York Times, although he didn't specify what organization was grading him. Trump tried to explain the difficulty of the situation to reporters:
It's very, very tough because it's an island. The difference [between the response time in Texas and Florida and Puerto Rico or the U.S. Virgin Islands] is this is an island sitting in the middle of an ocean — and it's a big ocean, a really, really big ocean.
Very big, indeed. If only Trump didn't sound like an aide explained the meaning of "territory" or pointed San Juan out on a map this morning, the people of Puerto Rico, and their loved ones living on the mainland, would feel reassured. In fact, New York Gov. Andrew Cuomo visited the island earlier this week.
On Thursday, Trump declared it a disaster zone, which unlocked Federal Emergency Management Agency (FEMA) funds, but it's not enough. Puerto Rico Ricardo Rossello pleaded with the administration, asking Trump to ask Congress to approve more funds to rebuild and lower the threshold of what it would have to pay back, according to Vox. The island is still waiting for 24 of its 78 municipalities to be declared a disaster zone, as Think Progress reported.
"We need more resources from the Department of Defense so we can get helicopters and resources," he told Politico. "We know that there are capabilities in the surrounding areas, helicopters, planes and so forth," he said. "And our petition is for us to be able to use them," Rossello added.
Politico reported that the Department of Defense confirmed that there are six Navy helicopters and three Marine Osprey planes capable of vertical takeoff and landing had begun search-and-rescue operations and damage assessments via an email, but there are still parts of the island still off of the power grid.
Trump could ask Congress for more money for Puerto Rico, as Vox reported, yet six days after the storm, he still hasn't done so. "Whatever relief package we have, whatever impact we have, we are U.S. citizens. We shouldn't be the lesser for it," Rosello said, according to Vox. He added that if the island is not rebuilt, residents could migrate "in droves" to the mainland, which would have devastating effects for both Puerto Rico and the United States.
Hopefully Trump acts soon. Or at least brushes up on the federal government's responsibilities to the island so he can bring them some good news in the days before his visit to the area.
Watch Romper's new video series, Romper's Doula Diaries:
Check out the entire Romper's Doula Diaries series and other videos on Facebook and the Bustle app across Apple TV, Roku, and Amazon Fire TV.