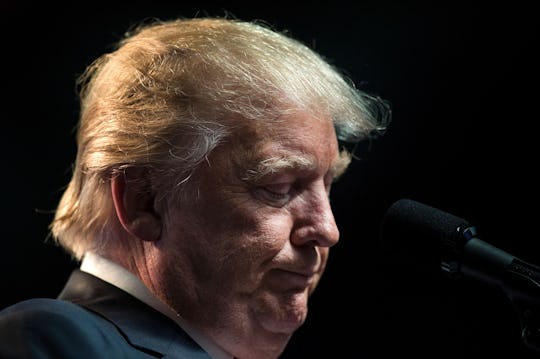 BRENDAN SMIALOWSKI/AFP/Getty Images
Trump Blames EgyptAir MS804 Crash On "Terrorism" With An Insensitive Tweet
Aviation and intelligence officials may have been reluctant to draw conclusions about what caused the disappearance and possible crash of EgyptAir Flight 804 early Thursday morning, but Republican frontrunner Donald Trump did not hold back. Taking to Twitter moments after news broke that officials had lost contact with the flight crew somewhere over the Mediterranean, Trump blamed the EgyptAir crash on terrorism — even though authorities were still searching for details in the wake of the tragedy. Yet again, Trump didn't ask people to think of the families, proving that sensitivity just isn't his thing.
The EgyptAir commercial jetliner left Charles de Gaulle airport in Paris at 11:09 p.m. local time and was due to arrive in Cairo at 3:15 a.m. on Thursday morning, according to BBC News reports. After several successful check-ins, air traffic control lost communication with the flight crew just before the plane entered Egyptian airspace.
Still, even before Egyptian or French officials had given details publicly about the plane's final moments, Trump had concluded that the plane and its 66 passengers had been the victims of foul play. "Looks like yet another terrorist attack. Airplane departed from Paris," the presumptive Republican presidential nominee tweeted from his account at 6:30 a.m. Eastern Time on Thursday morning. "When will we get tough, smart and vigilant? Great hate and sickness!"
Later, Egyptian officials would confirm that radar tracking systems had recorded the plane making several severe turns and swerves before plummeting more than 27,000 feet and disappearing from radar screens.
And it took another two hours after Trump's tweet for the Egyptian Civil Aviation Minister to publicly state that investigators hadn't ruled out the possibility of terrorism, according to a CNN report. "We do not deny there is a possibility of terrorism or deny the possibility of technical fault," Sherif Fathy said at a Cairo press conference broadcast live on Thursday morning. "I will continue to use the term 'missing plane' until we find any debris." So far, neither the Islamic State nor Al Qaeda has come forward to claim responsibility for the downed flight.
This isn't the first time the presidential hopeful has labeled a tragedy as an act of terrorism before a cause or motive had been determined. In December, ABC News reported that Trump believed the suspects in the San Bernardino mass shootings had terrorist connections based only on the suspects' names. Speaking to press just after the shootings, Trump reportedly said, "It looks like another case. We've got a lot of bad things going on. Radical Islamic terrorism. Take a look. I mean, you look at the names, you look at what's happened. You tell me." He later added, "I think it was terrorism."
As authorities vow to "keep an open mind" about possible causes for Flight MS804's disappearance, as of Thursday afternoon, aviation and intelligence officials had begun checking flight manifests from the plane's last 24 hours against international terrorism watch lists to see if any passenger or crew names appear. Intelligence authorities are focusing attention in particular on possible security holes at Charles de Gaulle airport, where some 70 employees had their security clearances revoked last year for suspected terrorist connections. Officials have said they will also investigate possible security breaches along the winding route the EgyptAir jet took over the last 24 hours, including stops in Tunisia and Eritrea in Northern Africa.
If confirmed to be the work of terrorists, EgyptAir Flight MS804 would be the third commercial flight to be taken down deliberately over the past two years, according to a live CNN broadcast.