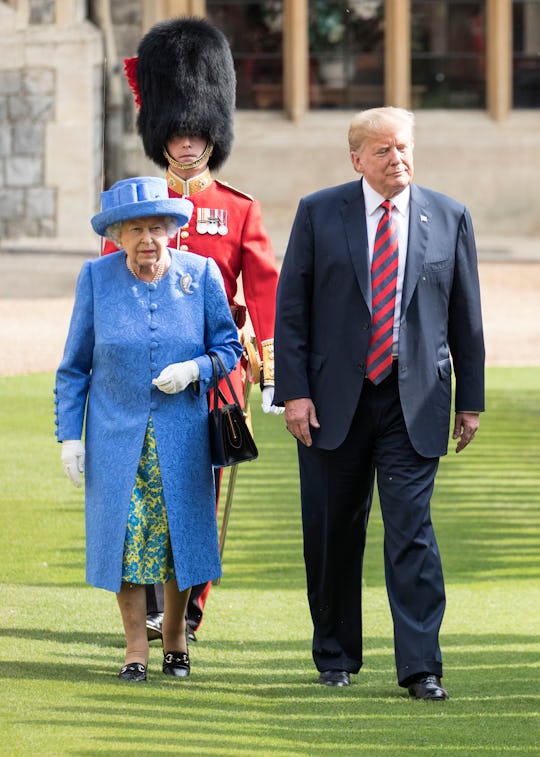 WPA Pool/Getty Images News/Getty Images
Trump Broke Royal Protocol After Meeting The Queen, Because Of Course He Did
When it comes to international political relations, one of the core tenets that a country expects its leaders to uphold is a sense of diplomacy, and of course, a major part of that is the mutual understanding that everyone abide by protocol. It seems as though this should be common sense, and yet, a recent meeting between President Donald Trump and Queen Elizabeth II proved that it's not always the case. In fact, as TIME reported on Monday, Trump apparently broke royal protocol after meeting with the Queen by revealing details of their conversation on national television, particularly her formerly undisclosed feelings about certain political situations in the United Kingdom.
On Monday, according to TIME, President Trump did an interview with Good Morning Britain host Piers Morgan, in which he was asked about his recent meeting with Queen Elizabeth. He told the host that the Queen supposedly confided in him on issues like Brexit, allegedly calling it "complex." He also noted that though he wasn't sure how she felt about him, he definitely liked her. Revealing private information from a conversation between world leaders is a huge breach of protocol, CBS News reported, and typically not something you ever see happening. Maintaining an ethic of trust and privacy is essential to building international relationships.
This is also significant given that the monarchy is staunchly apolitical, and typically don't answer questions or offer their personal opinions on certain issues, according to The Royal Household. "In a monarchy, a king or queen is Head of State. The British Monarchy is known as a constitutional monarchy," the The Royal Household explained of the role of the Queen. "This means that, while The Sovereign is Head of State, the ability to make and pass legislation resides with an elected Parliament."
However, President Trump's reveal of comments exchanged between him and the Queen was not the only questionable moment that occurred during and after his visit. The Times of London reported that a number of members of the royal family allegedly "snubbed" Trump during his visit, as Prince Charles nor Prince William attended his meeting with the Queen, which, the publication noted, was "unusual," as the Queen is often accompanied by another member of the royal family, and Prince Charles has been stepping in for Prince Phillip more and more often.
"They simply refused to attend. It's a very, very unusual thing for the Queen to be there on her own," a source reportedly explained to the paper. "Usually she is accompanied by somebody. Prince Charles has been substituting for Philip a lot recently."
AOL later reported that Trump also made a "minor" etiquette error during his visit, at one point turning his back to the Queen to address someone else, which according to royal protocol, isn't allowed. However, it's safe to say that a small breach such as that is not as alarming as the disclosure of what is purportedly classified information exchanged privately between world leaders.
There's been a lot of speculation regarding how the Queen really feels about Brexit, though of course, nothing has been explicitly confirmed by Buckingham Palace, and in fact, the monarchy has gone out of its way to deny any claims that the Queen has made statements regarding her opinion either way.
However, The Telegraph reported that she allegedly said she didn't think leaving would be "a problem," reportedly saying at a private lunch before the referendum that she just wanted to "get on with it." Laura Kuenssberg, the BBC's political editor, said:
At some point this is going to come out, and I'm telling you now and I don't know if the BBC would touch it, but the Queen told people at a private lunch that she thinks that we should leave the EU'. Apparently at this lunch she said "I don't see why we can't just get out. What's the problem?"
However, Buckingham Palace denied the claims at the time, as Newsweek reported, saying that it was a "misleading" argument and that the Queen maintains her neutrality on all political issues in the United Kingdom. Whether she does or whether she doesn't, it will be interesting to see how the royal family continues to respond to Trump, given that this is not the first offhand comment the Queen has allegedly made on the issue. For the sake of continued sovereignty, it will be interesting to see how their relationship with the president changes, or continues to unfold.