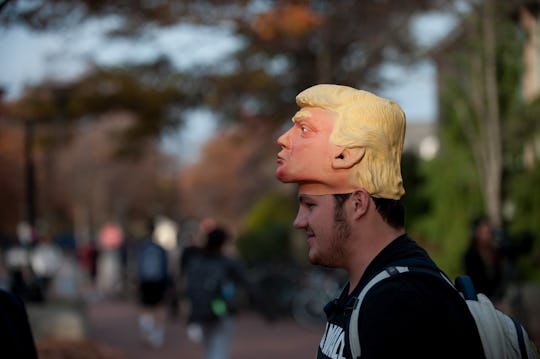 Jeff Swensen/Getty Images News/Getty Images
Trump Cake Tweets & Memes Prove This Night Is Just Getting Started
Just when you thought it was safe to go back in the water, Donald Trump and his camp ordered a massive cake in the shape of Donald Trump and everything was weird again. This election has been a bit of a dumpster fire all around, but wheeling in a desert that's equal parts creepy, sinister, and awkward as hell, to celebrate what your team hopes will be a night of victorious revelry has to top the list of "weird things we did in 2016, that no one should ever talk about ever again, but probably will anyway." As usual, Twitter was on top of things, as the wave of hysterical Trump cake tweets and memes proves. And if you thought the evening would be over 10 minutes after the final call announcing either Trump or Democrat Hillary Clinton as the new president-elect, you were so, so wrong: As long as this cake is around, the Twitter party will continue.
According to reports, the cake was meant to be a "victory cake," but with its sad, doleful eyes, sagging cheeks, mottled skin tone, and a look in its eyes that seemed more "What dark choices have I made in my life" rather than "Tonight, we ride" (which, in all fairness is a pretty accurate re-creation), calling it a "victory cake" feels a little overly-confident.
Razor-sharp Twitter users wasted no time in pointing out all outstanding aspects of the viral oddity:
Of course, some were more concerned with how the cake actually tasted, which, we can all agree, likely has a very specific flavor:
The baker who crafted the cake probably didn't intend for her creation to become a viral sensation, but it's safe to assume that pretty much everyone's nights were made when the Trump camp wheeled that spongey, fondant-covered monstrosity through the doors of Trump HQ (that includes Trump's supporters, who can spin almost anything into gold).
"Trump didn't know; his son knew, and it's a surprise for him," baker and Pratt Institute grad Melissa Alt told Inverse on Tuesday. According to Alt, who also made a Hillary Clinton victory cake, the massive creation took around 50 hours to bake, and weighs in at a whopping 40 pounds. "It took me like 20 hours to sculpt just the heads," Alt said. "Baking Hillary was a little more difficult because Donald has very distinct features, so it was very easy for me to sculpt those."
Here's hoping that Alt has a lot of time on her hands — because there are a lot of hangry Americans who are probably going to want their own custom-made Trump cake now.