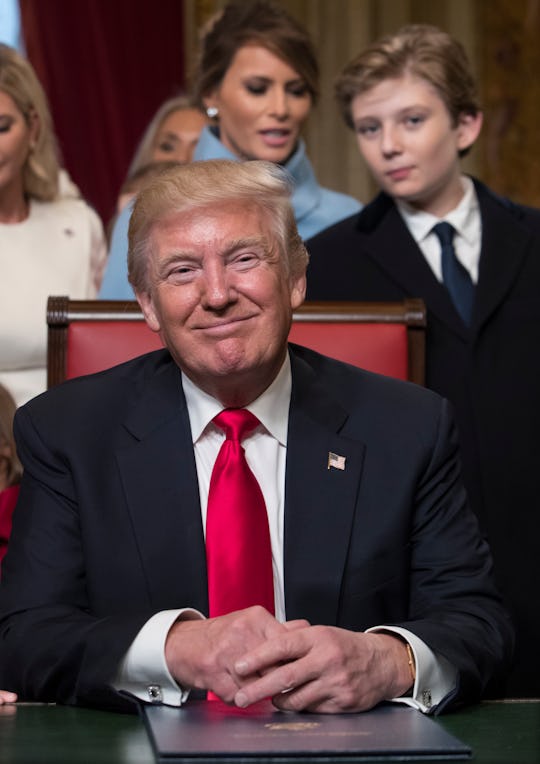 Pool/Getty Images News/Getty Images
Trump Calls The Falcons "The Other Team", Rude
Oh, Mr. President. It seems like, lately, not a day goes by when our new commander in chief says something a bit... questionable. Well, him, or his administration that is. From "alternative facts" to the "Bowling Green Massacre," though, it almost seems as though Trump himself has been mainly in the clear, with Kellyanne Conway taking most of the heat, of late. But on Sunday, during a pre-Super Bowl interview with Bill O'Reilly of Fox News, Trump called the Atlanta Falcons the "other team," rather than referring to them by name. Whether it was just a slip-up or whether Trump simply couldn't recall who was playing in the game that night (for clarity's sake, it's the Falcons and the New England Patriots), it was nonetheless amusing.
Following in the tradition of presidents past, Donald Trump sat down to give an interview on Super Bowl Sunday. Well, parts of the interview were aired on Sunday, anyway. The interview itself was taped in advance, and most of the segments will be shown on The O'Reilly Factor, as Trump's interviewer was O'Reilly himself. (You can watch it online if you missed it, don't worry.) And while, I can't speak for the entirety of the interview, as only portions were shown today before kickoff, this was definitely one of those awkward moments that we all need to talk more about.
When asked which team Trump had pegged to win, and who he was rooting for, Trump spoke highly of The New England Patriots, head coach Bill Belicheck, and Tom Brady in particular. However, it seemed as though Trump couldn't really think of much to say regarding the Atlanta Falcons. In fact, Trump gave no specifics as to who the Patriots were playing, simply choosing to call them "the other team."
Obviously, the full sentence was technically, "I think the other team is fantastic," but the noticeable absence of the actual team name is a bit suspicious.
To be fair, though, the president does have a lot on his plate, as all of our nation's leaders, past and present, have dealt with. It's also important to note that Trump himself has never been one to deliver profound or moving speeches, and, most recently, his comments about Frederick Douglass — which left many wondering if Trump knew who Douglass actually was — have been the source of many claims regarding Trump's ability to manage lots of data at once (in his defense, the president has a lot of facts and data to remember... but still).
Trump also predicted on Sunday that the Patriots would win the Super Bowl by eight points, causing many viewers without ties to any one team to hitch their own bandwagons to that of the Falcons. Of course, kickoff is only a couple of hours away, and anything could happen, so, I'll just leave you with this legitimate observation:
Happy viewing, friends! And good luck to both teams: The Atlanta Falcons, and that other team.