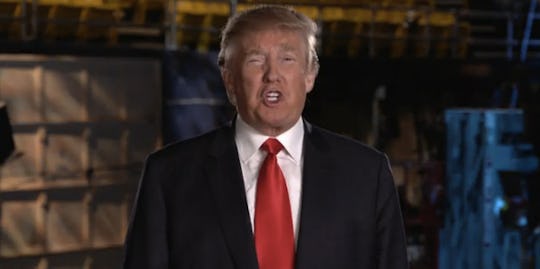 Trump Carries A Gun, He Said On 'SNL,' And Why Do We Not See That As A Huge Red Flag?
Donald Trump's appearance on Saturday Night Live was a little underwhelming, the Internet seemed to conclude. But when the real estate mogul and GOP presidential candidate introduced musical act Sia for the second time, we were reminded that Donald Trump carries a gun. Of course, carrying a gun is legal in New York, if you have a permit to carry one. And of course Donald Trump has a permit. But that fact, and the fact that Trump mentioned it in passing in a comedy sketch as though it's NBD, still felt super icky. 
The sketch started with Trump watching a video of his past SNL appearance when the Toots and the Maytals were the musical guest. Then Kenan Thompson came out, playing lead singer Toots Hibbert, and they joked about how Trump tried to ditch him last time. 
Then they let Trump make a joke about how he carries a gun. And the two black guys promptly exited stage right. It sort of felt just, well, wrong, on a few levels. This year, more than any recent year, racially charged gun violence has occupied headlines and political discourse. Just last night during the Democratic Candidates Forum, all the candidates spoke pointedly about racism, police officers carrying firearms, and gun control overall. Whether or not citizens, and even police officers, should be carrying firearms is a a very, very big deal in this election cycle and for the country as a whole. 
But SNL let Trump drop it in as a joke, an aside, and that's a sign of a bigger problem with his candidacy for president: He thinks he can get away with anything. 
Part of his schtick, and something that SNL played up tonight during his appearance, is that he's "the best," right? This is a guy who thinks Mexican immigrants are all rapists, says graphic things about women every chance he gets, and loses his cool as soon as he feels threatened. Is this someone we really want walking around with a gun?
No matter where you stand on gun control, it's odd that this is something Trump advertises again and again. Even worse? It's that he feels comfortable joking around about carrying a gun, as a white male, in a sketch with two black men on national television while hundreds of people are standing outside of the studio protesting his appearance because they consider him a racist. 
If the sketch was funny, in any other way, maybe — maybe — it would be worth letting slide, in the holy name of Comedy. But overall it showed a lack of compassion and a lack of knowledge about what voters are really thinking about this year. Of course, Trump hates being politically correct. And we don't want to make the guy compromise his values. It'd just be nice, since he's running for president of an entire country (as opposed to just the few who find him amusing), if he knew and respected his audience now and again. 
Image: Robyn Beck/Getty; Giphy (1)