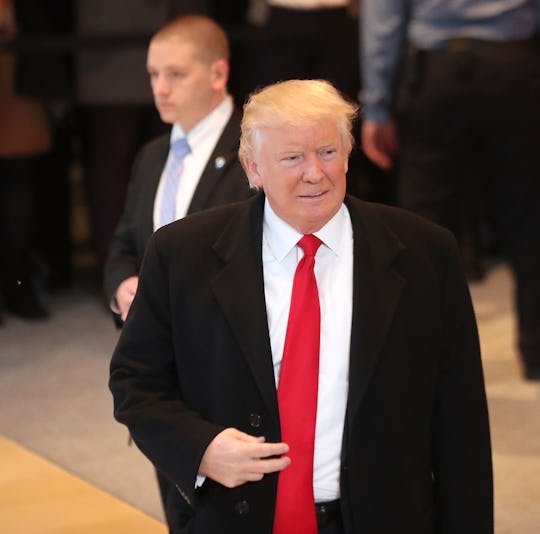 Spencer Platt/Getty Images News/Getty Images
Trump Claims Millions Voted Illegally, But Produces No Evidence To Back His Comments
On Sunday, with absolutely no evidence to back up his statement, President-elect Donald Trump claimed millions of people voted illegally in the 2016 election. "In addition to winning the Electoral College in a landslide," he wrote on Twitter on Sunday, "I won the popular vote if you deduct the millions of people who voted illegally." While there has been no evidence of illegal voting so far, Democratic candidate Hillary Clinton has been leading the popular vote, in which she stands approximately 2.2 million votes ahead of Trump at the moment.
Trump didn't include his reasoning for his illegal vote claim, and Romper has reached out to his representatives for comment. However, he could be basing his claims on recent reports by conspiracy websites, since there have been several unsubstantiated reports made claiming that over 3 million votes were cast by illegal immigrants in the November election.
Those reports were based solely on tweets by Gregg Phillips, a man who has previously worked for the GOP and who runs a voter fraud reporting app. So far, Phillips has been unable to provide evidence to support his claims, according to Politifact, and analyses of voting fraud over the years have painted quite a different picture.
In fact, one analysis — carried out by the investigative journalism group News21 — found only 77 cases of alleged voter fraud over the span of 11 years. In the past, Trump claimed that large numbers of both dead people and illegal immigrants were voting, but both of those scenarios have been largely discredited by fact-checking organizations. As Rick Hasen, a University of California professor who specializes in election law, recently told Politico:
The level of fraud in US elections is quite low. ... The problem of non-citizen voting is quite small — like we're talking claims in the dozens, we're not talking voting in the millions or the thousands or even the hundreds.
Trump also alleged more specifically in a later tweet that there was "serious voter fraud in Virginia, New Hampshire and California," and complained that the "the media [wasn't] reporting on [it]."
"Serious bias," Trump wrote. "Big problem!" Once again, Trump seemingly presented no evidence to back up this assertion, which most election experts deemed blatantly false.
Trump also spent the evening criticizing Clinton's campaign for supporting Green Party candidate Jill Stein's recount requests in three states. "The Green Party scam to fill up their coffers by asking for impossible recounts is now being joined by the badly defeated & demoralized Dems," Trump tweeted on Saturday. "The Democrats, when they incorrectly thought they were going to win, asked that the election night tabulation be accepted. Not so anymore!"
Trump's claim of illegal votes came after his series of tweets on Stein's recount requests. The White House has consistently claimed that the election results "accurately reflect the will of the American people," according to The New York Times, and are unlikely to support either Trump's claims or Stein's recount efforts.