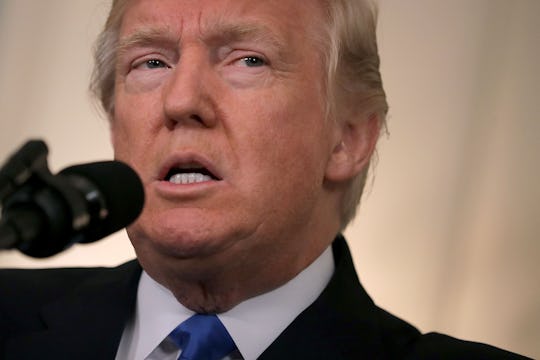 Chip Somodevilla/Getty Images News/Getty Images
Trump Confirms He's Under Investigation
On Wednesday, The Washington Post reported that senior investigation officials were being interviewed about President Donald Trump's possible obstruction of justice — a claim that Trump seemed to acknowledge in his tweets that day, calling any such investigation a "phony story." On Friday, however, Trump appeared to confirm that he's under investigation in a tweet, writing, "I am being investigated for firing the FBI Director by the man who told me to fire the FBI Director!" The White House has not responded to comment regarding the obstruction of justice allegations.
It's unclear exactly who Trump was referring to in his tweet — however, it appears he was pinpointing Deputy Attorney General Rod Rosenstein. Rosenstein wrote a memo to Trump in May condemning the way former FBI Director James Comey's handled the investigation into Former Secretary of State and Democratic candidate Hillary Clinton's private email server use. However, Trump's decision to blame "the man who told me to fire the FBI Director" in his tweet doesn't exactly make sense if he's referring to Rosenstein, considering both men claimed that Trump's decision to fire Comey took place before Rosenstein even wrote his memo.
"On May 8, I learned that President Trump intended to remove Director Comey and sought my advice and input," Rosenstein said in prepared remarks in May. "I sent my signed memorandum to the Attorney General after noon on Tuesday, May 9. I wrote it. I believe it. I stand by it."
In an interview with NBC last month, Trump also confirmed that he had decided to fire Comey regardless of the counsel he received. "Oh, I was going to fire him regardless of any recommendations," he said.
Romper also reached out to the White House for comment on Trump's tweet on Friday, but did not hear back immediately.
Rosenstein is not involved in the investigation into Trump's possible obstruction of justice, according to BuzzFeed. His only involvement in the investigation was his appointment of former FBI director Robert Mueller as special counsel, a position he can revoke only if he has "good cause" to do so. Rosenstein isn't supposed to be further involved in the ongoing investigation, and he recently told the Senate that he hadn't spoken to Mueller since first appointing him.
If the man Trump is referring to in his tweet is actually Mueller — who is heading the investigation — it would open up a whole new can of worms, as Mueller has never been linked to recommendations to fire Comey. If he had issued any such recommendations, it would present a new conflict of interest.
Finally, according to Vox, Trump's tweet makes it sound like the only reason he is being investigated is for Comey's firing — when actually, there were several events that reportedly took place in the last few months that likely raised red flags when it comes to Trump's alleged obstruction of justice.
Either way, it looks like the president himself has confirmed that he is under investigation — which means the world is likely to see many more interesting tweets emerging from Trump's social media accounts.