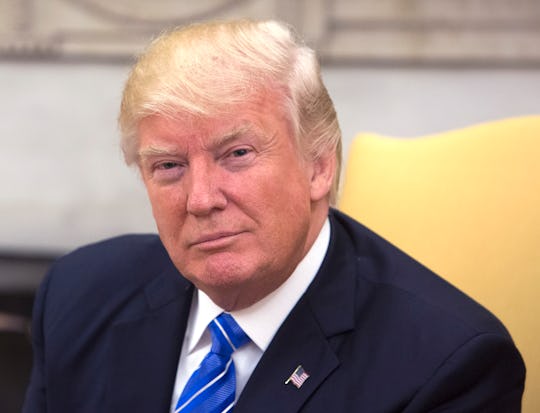 Pool/Getty Images News/Getty Images
Trump Defends His "Absolute Right" To Share Classified Information
On Monday, The Washington Post reported that President Donald Trump allegedly provided highly classified intelligence to the Russian foreign minister and ambassador during a visit at the White House last week. After several members of the Trump administration denied the allegations, the president took to his personal Twitter Tuesday morning to respond. Trump defended his "absolute right" to share classified information with Russia in a series of tweets that immediately made headlines.
In a story published Monday night, Greg Miller and Greg Jaffe at the Post reported that during a meeting with the Russian ambassador (that the U.S. press was not permitted to attend) the president revealed highly classified information to the ambassador regarding ISIS. According to the report, the information had come from a partner source who had not given the U.S. government permission to share the information — even with allies. According to Miller and Jaffe, the president "did not reveal the specific intelligence gathering method, but described how the Islamic State was pursuing elements of a specific plot and how much harm such an attack could cause under varying circumstances. Most alarmingly, officials said, Trump revealed the city in the Islamic State's territory where the U.S. intelligence partner detected the threat."
Jim Dalrymple and Jason Leopold at Buzzfeed then confirmed the story with two officials at the White House who said that Trump had disclosed highly classified information during a meeting with Russia's Ambassador Sergey Kislyak, and Foreign Minister Sergey Lavrov last week. One of the sources told Buzzfeed that the situation is "far worse than what has already been reported."
Senior officials from within Trump's administration, including Secretary of State Rex Tillerson and deputy national security adviser Dina Powell, immediately denied the allegations in the Post story. On Monday morning, however, the president tweets appeared to confirm that he had shared information with Russian officials and that he had the "absolute right" to do so.
As The New York Times report points out, that is technically true: the president has the right to declassify just about anything. That being said, doing so without the permission of the source could jeopardize, if not permanently damage, the U.S. government's international intelligence gathering and sharing relationships.
About an hour after his initial tweets, the president continued:
Last week, Trump fired the FBI's director, James Comey, amidst an ongoing investigation into whether the Trump administration had colluded with Russia during the 2016 election. The president claimed that his motive for firing Comey was the former director's mishandling of the investigation into Hillary Clinton, which many have argued cost her the election.
The FBI was investigating Clinton for using a private email server, over which there was concern she had shared classified information.