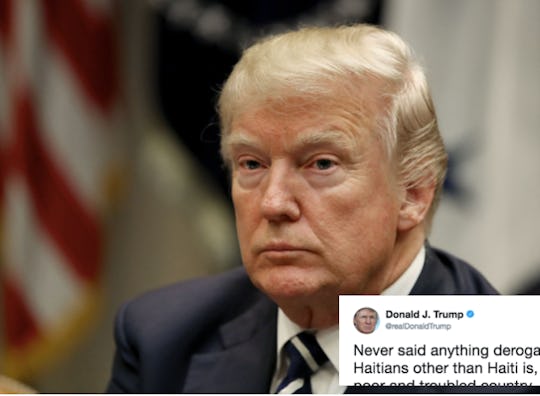 Mark Wilson/Getty Images News/Getty Images
Trump Seemingly Denies Calling Haiti A "Sh*thole" Country, & Twitter Is Not Here For It
At this point in his presidency, President Donald Trump has already said enough things that have offended people that it's tough to call what will happen next. And yet, here we are. On Friday morning, Trump seemingly denied calling Haiti and Africa "sh*thole" countries, after The Washington Post claimed he had made the remark during a meeting in which he rejected a Deferred Action for Childhood Arrivals (DACA) program deal. But not only did many on social media seriously doubt his comment, they also found his explanation to be seriously troubling. (Romper reached out to the White House for comment, but did not hear back at the time of publication.)
In a series of tweets Friday morning, Trump responded to the controversy, and defended his decision to turn his back on the DACA deal. He wrote that "the so-called bipartisan DACA deal ... was a big step backwards," and that if he'd agreed with the deal, the "USA would be forced to take large numbers of people from high crime countries which are doing badly." He then seemed to address the reports that claimed he'd asked, "Why are we having all these people from sh*thole countries come here?" by writing, "The language used by me at the DACA meeting was tough, but this was not the language used. What was really tough was the outlandish proposal made - a big setback for DACA!"
Later in the morning, Trump followed up with his initial spree of tweets claiming he "never said anything derogatory about Haitians other than Haiti is, obviously, a very poor and troubled country."
As with any tweet Trump sends out, though, there were a number of skeptical followers. While some expressed that they didn't believe President Trump and others acknowledged the fact that the president's comments weren't truly denied by the White House, according to Politico, one user straight up called bullsh*t in response to the tweet.
But what angered many users far more than his comment possibly being yet another lie was the fact that it was, once again, a massive insult to American immigrants and their contributions to the country:
Then there's the fact that the act of singling out non-white countries — countries whose struggles are, in large part, directly linked to colonization, the slave trade, and countless political decisions made by wealthy nations that have made it harder for countries like Haiti and El Salvador to thrive — only further normalizes the idea that non-white immigrants should somehow not be entitled to the same opportunities that the United States is supposed to offer to everyone.
As many noted, that is what should really be the focus beyond debating whether or not the president actually used the term "sh*thole." (It wouldn't be the first time, after all, that he's said something vulgar or offensive.)
Americans certainly aren't the only ones beyond outraged about the president's remarks, though. Former Mexican president Vicente Fox Quesada skewered Trump's comment in a tweet Thursday, according to TIME, and remarked that "America's greatness is built on diversity."
While former Haitian president Laurent Lamothe said that Trump "shows a lack a respect and IGNORANCE never seen before in the recent history of the US by any President."
The United Nations also issued a response to Trump's comment — and there was absolutely zero dicing of words. UN human rights spokesman, Rupert Colville, told a Geneva news briefing that "There is no other word one can use but racist," according to The Guardian, and added, "You cannot dismiss entire countries and continents as 'shitholes', whose entire populations, who are not white, are therefore not welcome." African Union spokesperson Ebba Kalondo also weighed in on the remark, and in doing so, called out both the slave trade and the United States' history as a country built by immigrants. She said,
Given the historical reality of how many Africans arrived in the United States as slaves, this statement flies in the face of all accepted behaviour and practice. This is particularly surprising as the United States of America remains a global example of how migration gave birth to a nation built on strong values of diversity and opportunity.
Jessie Duarte, a South African politician and deputy secretary-general of the African National Congress also blasted the president, reminding him that the United States is far from perfect. She said,
Ours is not a shithole country; neither is Haiti or any other country in distress. It's not as if the United States doesn't have problems. There is unemployment in the US, there are people who don't have healthcare services.
Trump's "sh*thole" comment is offensive and shocking, and though he denies saying it, the reaction on social media shows that it isn't exactly hard to believe that he could have. But even if he didn't use those words, the president's anti-immigration views have already made his position on non-white immigrants pretty clear. And voters should be rightly outraged.