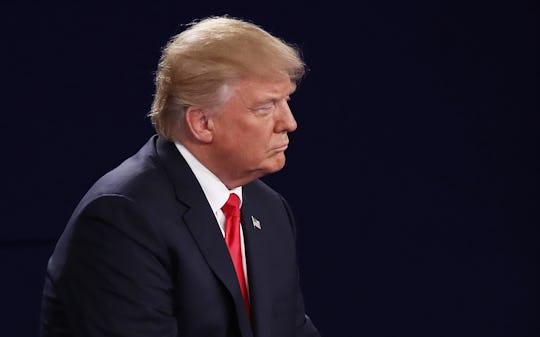 Win McNamee/Getty Images News/Getty Images
Trump Denies Sexually Assaulting Women, Because ISIS
During the second presidential debate Sunday night, Anderson Cooper asked Donald Trump if he realized he was bragging about sexually assaulting women in the video footage released by The Washington Post on Friday. In response, Trump didn't say he was bragging. At the second debate, Trump denied sexually assaulting women and bragging about it, and then said he would keep America safe from ISIS. Yeah. Then he went so far as to say, "Nobody has more respect for women than I do."
In the 2005 tape, Trump said, "I moved on her like a b*tch, but I couldn't get there. And she was married." He also said he would kiss women whenever he wanted and, "you can do anything... whatever you want. Grab them by the p*ssy." Trump later issued a public apology for the comments, saying, "I said it, I was wrong, and I apologize." Trump's campaign did not respond to Romper's request for comment regarding the video.
When Cooper asked Trump about the comments at the debate, he said it was "locker room talk" and that it was wrong, but then he said he would keep the U.S. safe about ISIS. So... no, you didn't brag about assaulting women, but ISIS! What? The topic switch was noted, and it made clear that Trump really didn't have any sincere apology for what he did.
Finally, when Cooper pressed him, Trump finally said he didn't assault anyone and that he knew what consent was. Still, he said it was "locker room talk," (which apparently makes it OK) and then continued to change the subject. Rather than saying "I didn't mean to reinforce rape culture. I was an idiot. I'm sincerely sorry. These are the steps I will take to help survivors of rape and sexual assault," Trump stuck to "it was locker room talk." Which translates to, "it's fine as long as I'm behind closed doors."
Regardless of where the talk took place, it was wrong, and Trump doesn't think he has to answer for it outside of issuing a public apology. Trump's followup of "Nobody has more respect for women than I do," is also clearly not true. Even though we all know this: Trump has called women "pigs" and "dogs," he told an Apprentice contestant that she would look nice "on her knees," and he told a breastfeeding mother that she was disgusting. Trump has proven time and time again that he doesn't respect women, and his refusal to answer Cooper's question or show how he will address the rape culture he has contributed to made that even clearer.