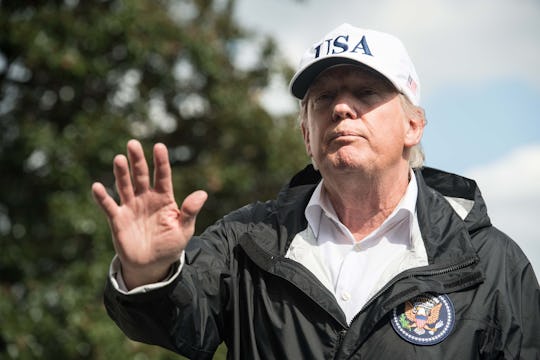 NICHOLAS KAMM/AFP/Getty Images
Trump Calls For Expanding The Travel Ban, Ignoring The White Reality Of Terrorism In America
President Donald Trump may not have yet delivered on many of his major campaign promises — the giant Mexican border wall, repealing and replacing Obamacare — but one thing he certainly hasn't given up on, despite a lot of legal push-back? His travel ban. Trump first introduced the executive order, meant to temporarily bar certain individuals from a number of Muslim-majority countries from entering the United States shortly after taking office in January. Following Friday morning's terror attack on the Parsons Green tube station in London, Trump called for expanding the travel ban, according to The Independent. His argument was that beefing up the ban would ultimately make Americans safer against terrorist attacks, but the president's tweets have really only made one thing abundantly clear: that even though the most recent terror attack on the United States was actually a result of the white supremacist march in Charlottesville, Virginia, as far as he's concerned, terrorism is an issue tied pretty much entirely to Islam.
In response to news of the London bombing, Trump — and many of those who support his views — took to social media to argue that the attack was yet another reminder that not enough is being done to combat radical terrorists who claim to be inspired by Islam, and that it's mostly because people are too afraid of being considered politically incorrect.
Early Friday morning, Trump tweeted that the Parsons Green explosion was "another attack in London by a loser terrorist," whom he claimed was "in the sights of Scotland Yard." Arguing that America needs to be "proactive" and that terrorists should be "dealt with in a much tougher manner," the president wrote in a follow-up tweet that "the travel ban into the United States should be far larger, tougher and more specific-but stupidly, that would not be politically correct!"
Trump's comments certainly come as no surprise given that he's long made his views on how best to fight terrorism known, and it's not even the first time he's co-opted the response to an international terror attack to push his agenda. According to CNN, the POTUS tweeted following terror attacks in London in June that Americans needed the courts to lift the restrictions that had been placed on his travel ban, and wrote, "we need the Travel Ban as an extra level of safety!" And on Tuesday, Trump actually got his wish: according to The Hill, the Supreme Court agreed to the administration's request to block a federal appeals court ruling against the ban.
But Trump's swift condemnation of the London terror attack comes at a particularly interesting time, given that only hours earlier, the president signed a congressional joint resolution condemning the violence of neo-Nazis and white supremacists during the August rally in Charlottesville, Virginia, according to Politico. In a statement issued by his press office late Thursday, Trump said, "As Americans, we condemn the recent violence in Charlottesville and oppose hatred, bigotry, and racism in all forms," and added "No matter the color of our skin or our ethnic heritage, we all live under the same laws."
But one day earlier, Trump also spoke to reporters aboard Air Force One, and reiterated the same kind of rhetoric he'd used in earlier statements to discuss his views on Charlottesville — that while he condemns the violence, he also thinks there are good people on both sides. According to Politico, Trump said,
I think especially in light of the advent of Antifa, if you look at what's going on there, you have some pretty bad dudes on the other side also, and essentially that's what I said. Now because of what's happened since then with Antifa, when you look at really what's happened since Charlottesville, a lot of people are saying — and people have actually written — 'Gee, Trump may have a point.'
Trump's take on Charlottesville has certainly been much more moderate than his view on the Parsons Green attack — despite the fact that in Charlottesville, a woman was actually killed — and it seems to very clearly stand in opposition even to some members of his own administration, including Attorney General Jeff Sessions, who called the Charlottesville violence an an act of "domestic terrorism," according to The Washington Post.
The fact that radical far-right terrorism exists in the United States is in no way ignoring or downplaying the need to also fight against militant extremism in Muslim countries, or the deadly impact it has caused both at home and throughout the world. But Trump's lukewarm response to Charlottesville does seem to be a pretty clear sign that, at best, he doesn't exactly consider the two comparable — and according to PolitiFact, that's a real problem.
Between Sept. 12, 2001, to Dec. 31, 2016, there have been 85 domestic terror attacks carried out by violent extremists, resulting in 225 people being killed. That includes the deadly attacks carried out by radical terrorists who claim to be Muslim, like the mass shooting at Orlando's Pulse nightclub for example (an attack that was responsible for 41 percent of the deaths caused by an violent extremist during that time period). But it's also important to note that nearly 83 percent of the domestic terror attacks that took place between those dates were actually carried out by "far-right violent extremists," including white supremacists, anti-government groups, and other groups with extreme views. So while Trump certainly isn't wrong to want to fight terrorism, focusing on toughening up his travel ban as a way to do it is basically missing the mark.
What it does do, however, is reinforce the unfair stereotype that all Muslims are somehow radicalized terrorists who don't deserve to be in the country, while ignoring the fact that, actually, radical right-wing white men are much more likely to pose a terrorist threat to the average American. According to The Huffington Post, a report earlier this year from The Nation Institute's Investigative Fund and The Center for Investigative Reporting found that the majority of the terrorist attacks on American soil were from individuals aligned with "gradations of white supremacy," according to the report's lead reporter David Neiwert, and that the attackers are also "mostly men" and "almost purely white."
To be sure, the perception that radical terror inspired by a perversion of Islam is the biggest threat facing the nation didn't start with Trump, and it likely won't end with him either. White, male extremists, after all, are much more likely to be considered to be "lone wolf" shooters, for example, and their actions are more likely to be blamed on issues like mental illness rather than their ideologies. But comparing Trump's response to Parsons Green with his take on Charlottesville is a clear sign that he's only further fueling these incorrect assumptions. And while he thinks he's helping to make the country safer, the reality is that he's actually doing the exact opposite.