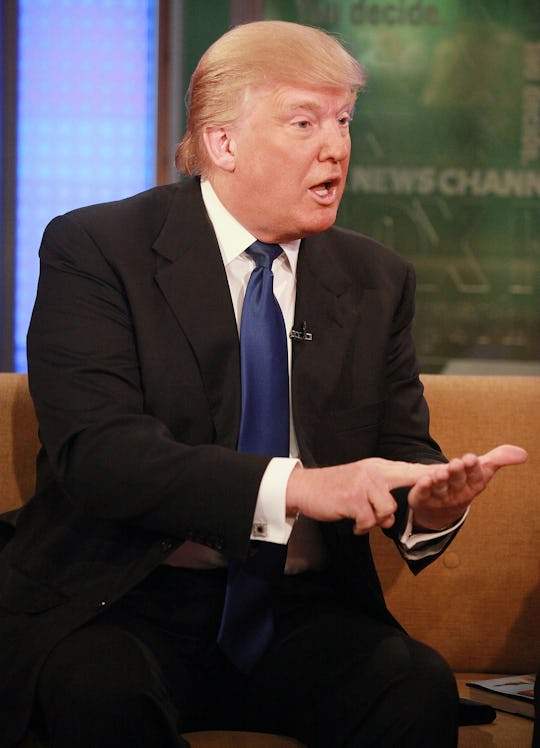 Astrid Stawiarz/Getty Images Entertainment/Getty Images
Trump Fat-Shames Alicia Machado, Former Miss Universe, Again, Because Once Wasn't Enough
One of the most memorable moments from Monday night's presidential debate was when Hillary Clinton tore into Donald Trump for his record on women, which is abysmal to say the least. Clinton noted that Trump has called women pigs and slobs, and even referred to a Latina woman as "Miss Housekeeping." That Latina woman's name is Alicia Machado, and she was crowned Miss Universe when Trump owned the pageant's operating company. Trump fat-shamed Machado back then, and apparently he hasn't learned his lesson – he's still doing it now, according to CNN. Trump's campaign didn't respond to Romper's request for comment.
Trump went on Fox & Friends the morning after the debate to discuss the allegations involving Machado. He called her the "worst we ever had, the absolute worst." He said his company had a "tremendously difficult time with her" because "she gained a massive amount of weight, and it was a real problem."
Machado has publicly come out against Donald Trump, citing her experiences with him after the pageant as reasons why she can't support him, according to the Daily Beast. The former Miss Universe said Trump refused to pay her what she was owed for commercials, called reporters on her to watch her work out, and consistently shamed her for gaining weight after the pageant. That's not exactly shocking, considering he shamed her for her weight again today.
This is what he said on Fox & Friends:
Now, Machado is speaking out in support of Clinton. She appears in a new video put out by the Clinton campaign in which she recounts the mistreatment she suffered at the hands of Trump and his company. That video shows a younger Trump telling reporters details about the pageant winner's weight, saying, "This is somebody that likes to eat."
Machado said his intimation and bullying made her feel incredibly humiliated and even led her to develop an eating disorder later in life. "I wouldn't eat, and would still see myself as fat, because a powerful man had said so," she said.
Unfortunately, Trump's comments in the late 1990s about Machado weren't the first undeniably sexist comments he's made about women. He has a long history of doing so. The Telegraph published a timeline of Trump's "most sexist remarks" over the years. In 1991, Trump told Esquire that it didn't matter to him what the media wrote about the women in his life, as long as he had a "young and beautiful piece of ass." Since then, he's called women fat, ugly, disgusting, pathetic, unattractive, bimbos, gold-diggers, dogs, slobs, and so much more. So Machado is neither the first nor last woman to be insulted by Trump — but at least she's calling him out.