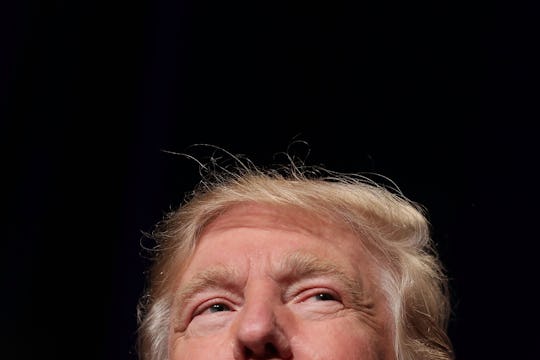 Chip Somodevilla/Getty Images News/Getty Images
Trump Files Lawsuit In Nevada Over Voting Hours In Clark County, But Will It Stick?
Donald Trump has said over and over and over again that he's sure the presidential election is rigged against him and that there's voter fraud happening out the wazoo all over the country. There's scant evidence of that, but the Republican nominee has identified at least one specific instance where he feels he's been cheated. On Election Day, Trump filed a lawsuit in Nevada over voting hours that were reportedly extended during early voting in Clark County — even though election law dictates that polling places must stay open long enough for anyone who was in line before closing time to cast their ballots.
Update: Reuters reported that a Nevada judge shot down Trump's request that votes cast after 8 p.m. in Clark County be thrown out. The supporters who cast votes after 8 p.m. were in line by that deadline, and were thus likely allowed to vote according to the law. Clark County Judge Gloria Sturman said that the Trump campaign's lawsuit was essentially unnecessary: the campaign could use existing administrative avenues to get what it wanted, which was to preserve voting machines and ballots in the county in case it wanted to challenge them later in court, according to CNBC. Sturman said that those records are already required to be preserved under the law.
Clark County is home to Las Vegas, as well as a substantial Latinx population whose early voting efforts helped to drive up Democratic Hillary Clinton's lead there by a margin of 72,000 by Friday, Politico reported. It's a phenomenon in this battleground state that irked Trump, who has implored his supporters to watch the polls for instances of fraud in places where many minority voters live (voters who have become the target of voter intimidation lawsuits in four states, including Nevada, because of it).
Clearly, it's advantageous to Trump's presidential bid — which he's fueled by calling Mexican immigrants "criminals," "drug dealers," and "rapists" and proposing to build a wall along the the border with Mexico to keep them out — to suppress Hispanic voter turnout at all costs.
So, at a Reno rally for the Republican candidate Sunday, the state's GOP chair, Michael McDonald, went in on the decision to keep the polls open past closing time the night before. "...In Clark County, they kept a poll open until 10 o'clock at night so a certain group could vote," he told the crowd, according to The Independent. "The polls are supposed to close at seven. This was kept open until 10. Yeah, you feel free right now? You think this is a free and easy election? That's why it's important."
And Trump, ever reliable, chimed in with his normal claim, a kind of bolstering against the very real possibility that he could lose the election to Clinton: "Folks, it's a rigged system," he said, again, Politico reported. "It's a rigged system. And we're going to beat it." he said.
Except, Trump's likelihood of beating Clinton and the supposedly rigged election system is anything but guaranteed. Although national polls have tightened considerably leading up to Nov. 8 and now forecast a much closer race between Trump and Clinton than they did previously, Latinx voters have been turning out in massive numbers nationally, and that's been nothing but a boon for the Democratic ticket, according to The New York Times.
And that makes the situation more dire for Trump as his road to the White House still appears narrower and more precarious than Clinton's — and securing Nevada's six electoral votes could be critical for him if he doesn't claim crucial states like Florida, Ohio, Iowa, North Carolina, and Arizona, according to CNN. (The most recent RealClearPolitics polling average in Nevada has Trump up by just 0.8 percent.)
Perhaps that's why, despite knowing that the polling place in question, Cardenas Market, had to stay open so that everyone in line could vote, Trump's camp has opted to sue the state's registrar for allegedly extending its hours from 9 p.m. to 10 p.m. "in order to skew the vote unlawfully in favor of Democratic candidates," according to the suit, as CBS News reported. An emergency hearing on the matter was scheduled for Tuesday afternoon.