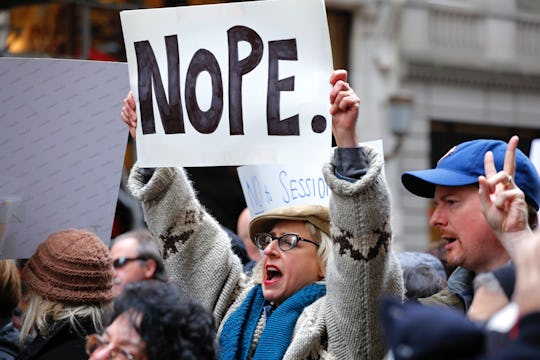 KENA BETANCUR/AFP/Getty Images
Trump Files To Block Protests In Washington, & It's An Unconstitutional Abuse Of Power
The Lincoln Memorial in Washington, D.C. seemed like a natural choice for The Women's March On Washington, a protest that has been organized to take place on Jan. 21, following President-elect Donald Trump's inauguration. It is, after all, the site where a number of the country's most important rallies — including civil rights demonstrations and rallies against the Vietnam War in the 1960s — have taken place. More than 137,000 people have RSVP'd to the protest's Facebook event page as attending, but news that Trump filed to block protests in Washington has meant that the group was unable to secure a permit for its original location.
According to People, protest organizers have indicated that they've found a backup location that will soon be announced, and that the protest is still slated to go ahead as planned. But, according to The Guardian, the fact that Trump's team has moved to block protests at the Lincoln Memorial in connection to his inauguration — not just on Inauguration Day itself, but for days before and afterward — is something constitutional rights lawyer and Partnership for Civil Justice Fund executive director Mara Verheyden-Hilliard has called "extremely unique," and something that hasn't been seen with previous administrations.
According to ABC News, The Women's March On Washington was one of about 20 different groups who have applied for protest permits connected to Trump's inauguration — about four times the usual number, National Park Service spokesperson Mike Litterst said. But none of the original permits have actually been granted, because, according to Verheyden-Hilliard, the NPS filed "a massive omnibus blocking permit" on behalf of the Presidential Inauguration Committee to designate the areas surrounding the national mall, Pennsylvania Avenue, the Washington Monument and the Lincoln Memorial as off-limits to protesters.
In a statement, the NPS said that reserving space ahead of a presidential inauguration is standard, and permit documents show that the space has been reserved for about the last year, according to ABC News. Litterst said that the agency is currently "actively reviewing the pending permit applications" submitted by the various protest groups, and that it is "committed to accommodating as many permits as it can." But Verheyden-Hilliard isn't so sure about that: she noted that the NPS has never denied permits in the past for protests associated with inaugurations, and believes that Trump's team is using the NPS' reserved space in D.C. to its advantage. That's because, while it may be standard for the NPS to reserve the space ahead of time, usually inaugural committees inform the agency what space they will actually need, thus allowing the NPS to issue permits accordingly. But Trump's team has yet to confirm what it intends to use, and activists are worried Trump's team will continue to hold out that information to keep protests at bay.
Verheyden-Hilliard, along with a number of other veteran civil rights attorneys in Washington, have said they intend on taking legal action to keep that from happening, according to NBC News. But the entire notion that Trump's team could be working to prevent inauguration protests from occurring — especially at a spot that has long represented a public space for free speech and the right to protest — is concerning. After all, as the American Civil Liberties Union has noted, the First Amendment protects the right to free speech in public forums, and furthermore, "a permit cannot be denied because the event is controversial or will express unpopular views."
But, even more than that, the notion that the soon-to-be-sworn-in president and his team could be actively trying to silence voices disagreeing with their administration is scary. The right to assemble, according to the ACLU, "is critical to a functioning democracy and at the core of the First Amendment," and lawful protests have long been a way for marginalized citizens to have a voice. Trump might not like what The Women's March On Washington protesters have to say, but, as president, he still has to actually let them say it.
According to The Women's March On Washington's Facebook page, the grassroots protest effort formed as a result of the "rhetoric of the past election cycle," which "insulted, demonized, and threatened many of us." By protesting on Jan. 21,
The Women's March on Washington will send a bold message to our new administration on their first day in office, and to the world that women's rights are human rights. We stand together, recognizing that defending the most marginalized among us is defending all of us.
A spokesperson for the group told People that they do have a permit to assemble at an "updated rally site" in "another location in the city," and that they will release the information once the permitting process has been finalized. Litterst told the magazine that the organizers' original requests were turned down "either because applications had previously been submitted from other events for those locations, or the site couldn't accommodate the number of people they are expecting," and added that the NPS is "working with the organizers to find an alternate location that still allows them to exercise their First Amendment rights."