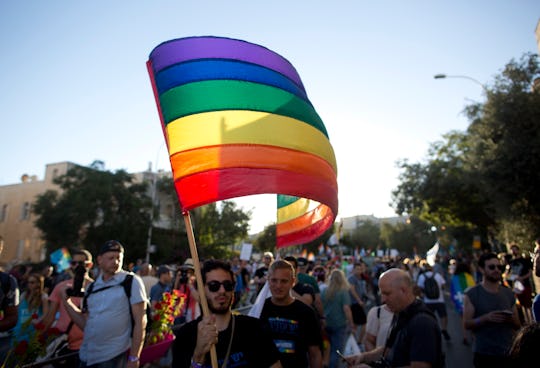 Lior Mizrahi/Getty Images News/Getty Images
Trump Hasn't Declared June LGBTQ Pride Month
We're two days into Pride Month, but it seems that the president isn't celebrating. Trump hasn't officially declared June LGBTQ Pride Month, and some are wondering whether it just slipped his mind (he's a "very active president," he'll have you know), or if he's just ignoring it entirely. According to USA Today, President Bill Clinton issued the first official proclamation for "Gay and Lesbian Pride Month" in 1999. June was selected in recognition of the 30th anniversary of the Stonewall Inn riots, which are considered to be the catalyst of the LGBTQ civil rights movement. In 2000, Clinton again proclaimed June to be Pride Month. The White House didn't immediately respond to Romper's request for comment.
However, the next eight Pride Months were technically unofficial, at least as far as the federal government was concerned, as President George W. Bush refused to recognize the event each year. Things changed once President Obama took office, however: he once again recognized Pride, as well as bisexual and transgender Americans, who are too often left out of the narrative. June 2009 was proclaimed Lesbian, Gay, Bisexual, and Transgender Pride Month. He continued to proclaim June to be LGBT Pride Month every year he was in office. Trump hasn't been great on many gay rights issues, but his record is better if you're comparing it to his fellow Republicans' or his attitudes towards other marginalized groups.
Trump's daughter and "Special Assistant" Ivanka recognized Pride Month with a pair of tweets, which only stood to underscore the fact that her employer has ignored it.
Twitter users were quick to reply, questioning if she actually cared about LGBTQ people, and pointing out that her father has rolled back protections for transgender students and LGBTQ federal contractors. And let's not forget that his vice president has some of the most horrifyingly regressive and hateful views on LGBTQ people; Mike Pence supports conversion therapy and pizza discrimination, and he believes that gay marriage will lead to "societal collapse." Apparently the era of Trump not being actively horrible to the LGBTQ community is a thing of the past.
Some also worry that Trump ignoring Pride Month signals a nationwide trend of crumbling support for the LGBTQ community.
And others have pointed out the curious silence of gay Republicans. Do they side with party over orientation on this one, or what?
But there is a silver lining; some people are going out of their way to remind the LGBTQ community that even if they don't have the support and respect of their president, they're far from alone.
Note to Trump: you still have 28 days to make things right. I'd act sooner rather than later, though, if I were you.