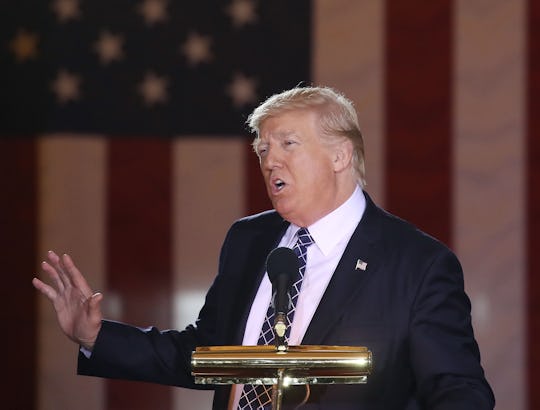 Mark Wilson/Getty Images News/Getty Images
Trump Is Speaking At The NRA Convention
For the first time since 1983, a sitting president will address the National Rifle Association at the group's annual convention on Friday. That sitting president is, of course, Donald Trump. Trump is speaking at the NRA convention, and that's kind of a big deal. Because, for the record, Ronald Reagan was the last president holding the office at the time to attend and address the group, in May of 1983. That's over 30 years ago. Many millennials haven't even been alive that long. But his appearance isn't just a big deal because of how long it's been since a sitting president has addressed the convention — it's also significant because it's the first time it's happened since mass shooting tragedies such as Columbine, Virginia Tech, and Sandy Hook occurred. So the appearance is definitely getting some attention, to say the least.
Although it's believed that he will get a mostly warm reception from the crowd, USA Today reported that Trump is expected to be greeted by some of his detractors in Atlanta — as in, protestors, mostly of the gun violence prevention advocacy type. These protestors are reportedly planning to stage a "die-in" — a protest where people will lie on the ground to represent victims of gun violence — in a park near the convention center in downtown Atlanta that is hosting the event.
But, as USA Today pointed out, the gun rights group may have encouraged voter turnout for the Republican ticket in the last presidential race — and Trump is likely to boast of their support at an event where some attendees feel he can "relate" to them more than other politicians. All eyes will be on Atlanta when Trump speaks there, and that's definitely a big deal.
NPR reported that Trump is scheduled to talk at the NRA Leadership Forum Friday, and the group wants to "hear a clear message from Trump." NRA spokesperson Jason Brown said of their hopes for Trump's speech:
Protecting gun rights, expanding gun rights and getting rid of legislation and gun rights restrictions in this country to make the Second Amendment more powerful than it ever has been before.
That outlet reported that, while Trump's relationship with the NRA hasn't always been without its issues, they backed him strongly in the recent election. The fact that Trump is speaking at the event is a good indicator that both sides are willing to support each other.
CNN reported that Trump is expected to speak about his promises to expand gun ownership rights and roll back some restrictions established under Obama. The Huffington Post reported that Trump has already signed a law eliminating an Obama administration background check regulation meant to block gun sales to some mentally ill individuals. Knowing Trump, he might play up moves like that, and continue to promise more of the same in the future to garner support.
The fact that Trump is speaking at this NRA event is very troubling to gun safety advocates. Think Progress reported that the group has become more extreme in recent years, and that even gun owners feel the organization has gone off course. One study found that 67 percent of gun owners feel the NRA has moved from an organization dedicated to gun safety to one "overtaken by lobbyists and the interests of gun manufacturers and lost its original purpose and mission," according to Think Progress. And even though studies show that 92 percent of gun owners support background checks before any and all gun sales, the NRA now opposes background checks, in spite of several recent mass shootings, according to Slate.
Following the mass shooting in Orlando in 2016 — the deadliest shooting in U.S. history — an op-ed in USA Today by the lobbyist group was entitled "Gun laws don't deter terrorists," according to Vanity Fair. They blamed political correctness and terrorists, but not lax gun safety laws, according to the publication.
And after Sandy Hook Elementary School Shooting, the Executive Vice President of the NRA, Wayne LaPierre, blamed "video games, music, the courts and the media for creating a culture of violence in the United States" after the tragedy, according to NBC News. The NRA was highly criticized for its response to the event, and the group Everytown for Gun Safety was launched nearly one year after the Senate debated and ultimately rejected changes to federal gun laws after the school shooting, which left 20 children and six adults dead.
When it comes to children affected by gun violence, the Brady Campaign to Prevent Gun Violence reported that 48 children and teens are shot every day in "murders, assaults, suicides & suicide attempts, unintentional shootings, and police intervention." And that on average, in one year, 2,647 kids die from gun violence. Chillingly, the Washington Post reported that there are a scary number of incidents in which toddlers are actually the perpetrators of gun violence — in 2015, there were 58 shootings committed by toddlers in the United States. It's understandable that, in light of statistics like this, gun safety advocates are especially dismayed by the attendance of a sitting president at an event for an association that seems to work against reducing gun violence through legislative action.
Trump's appearance and speech at this event after years of inaction and stalled progress for gun safety regulations in the United States is definitely significant. The Huffington Post reported that Dick Cheney spoke at the convention in 2004 while he was vice president, but no sitting president has done so in decades — Trump is the first to do it after several high-profile, mass casualty shooting incidents.
The convention is likely to be attended by some 80,000 people, according to the Huffington Post. It will run from Apr 27-30. Trump's appearance at the event, especially after years of lobbying by the NRA to block gun-violence prevention legislation, is incredibly significant, and incredibly disappointing.