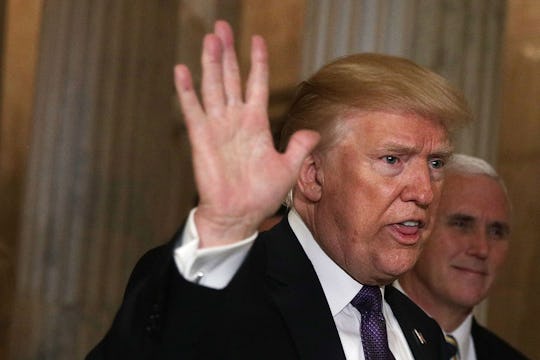 Alex Wong/Getty Images News/Getty Images
Trump Issues A Frustrating Statement About Al Franken, While Still Staying Silent About Roy Moore
On Thursday night, President Donald Trump took a break from furiously tweeting about tax cuts to address an issue that he's stayed silent on for far too long. Unfortunately, his comments left a lot to be desired. Trump called out Minnesota Sen. Al Franken over the allegations that he forcibly kissed and groped news anchor Leeann Tweeden without her consent, yet he's failed to address similar allegations against a member of his own party, Alabama Senate candidate Roy Moore.
Tweeden wrote on the KABC website that during a rehearsal for a 2006 USO comedy skit, Franken "put his hand on the back of my head, mashed his lips against mine and aggressively stuck his tongue in my mouth." She also released a photograph of him appearing to grope her breasts as she slept. Franken issued a statement apologizing for both incidents, although he said that he didn't recall the first. "I don't know what was in my head when I took that picture," he wrote, "and it doesn't matter. There's no excuse. I look at it now and I feel disgusted with myself. It isn't funny. It's completely inappropriate. It's obvious how Leeann would feel violated by that picture." Franken has requested that an ethics investigation be conducted into the matter. Romper's request for comment was not immediately returned.
Moore has been accused of sexual misconduct from eight women so far, ranging from harassment to attempted rape, according to ABC News. He continues to deny any wrongdoing.
Leigh Corfman said that she had sexual contact with Moore when she was 14 years old, and he was in his 30s. Moore Sean Hannity he's never met her.
Wendy Miller said that Moore also pursued her when she was 14. Moore didn't address her claim directly.
Debbie Wesson Gibson said she dated Moore when she was 17 and he was an adult. Moore told Hannity that he was friends with her parents, but he didn't recall dating her. "If we did go on dates then we did," he said.
Gloria Thacker Deason said that she dated Moore at age 18, when he was much older, and that he provided her alcohol Moore claimed that was impossible, as they lived in a dry county at the time. This is false, according to ABC News; Etowah County approved the sale of alcohol in 1972, seven years before the alleged incident. Moore told Hannity, "I seem to remember her as a good girl or I seem to remember I had some sort of knowledge of her parents, her mother in particular."
Beverly Young Nelson said that Moore began pursuing her at age 15, and when she was 16, he sexually assaulted and attempted to rape her. Moore denied ever knowing Nelson.
Tina Johnson claims that Moore grabbed her buttocks without consent when she was 28.
Gena Richardson said she was subjected to an unwanted and "forceful" kiss around age 18.
Becky Gray said that when she was 22, Moore repeatedly harassed her at her place of employment at the Gadsden Mall, where he was reportedly well-known by young female employees.
Moore has not responded to Romper's request for comment.
As the accusations against Moore continue to mount, he's losing the support of much of the Republican Party. Both the National Republican Senatorial Committee and the Republican National Committee have cut ties with his campaign, according to CNN. Senate Majority Leader Mitch McConnell and House Speaker Paul Ryan have called on Moore to withdraw from the race, and when Attorney General Jeff Sessions was pressed (under oath), he admitted that he has "no reason to doubt these young women," according to CNN. Ivanka Trump echoed that sentiment to the Associated Press, adding that "there's a special place in hell for people who prey on children," though she stopped short of calling for Moore to withdraw.
When asked by reporters on Wednesday whether he believed Moore's accusers or thought Moore should step down, Trump walked away, according to PBS News Hour. Yet he found time to condemn a Democrat accused of far less (not that Franken should not be condemned for the allegations against him), and even speculated that Franken's actions might be more serious than Tweeden alleged. Trump has expressed no sympathy for any victims, only contempt for a political opponent. As of Friday, Moore is still polling at 42 percent. Coupled with Trump's complete silence on the matter, this sends a discouraging message to those who have been abused by powerful men. I'll leave you with one more passage from Franken's statement: "The truth is, what people think of me in light of this is far less important than what people think of women who continue to come forward to tell their stories. They deserve to be heard, and believed." And I'd add, they deserve that regardless of whether it's politically advantageous.