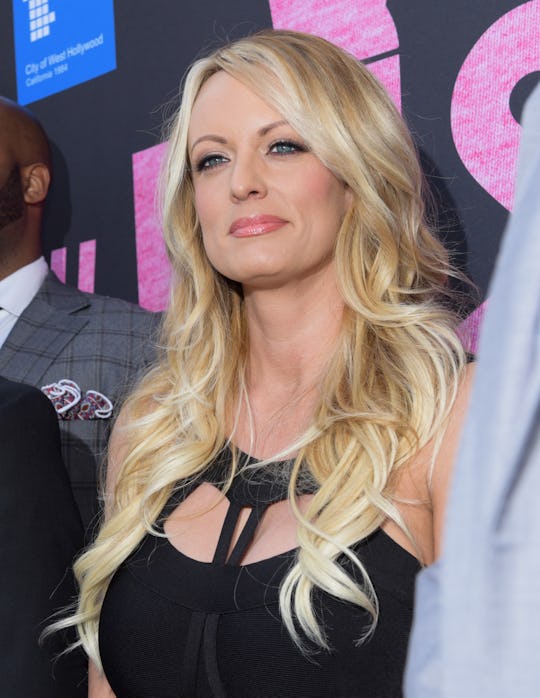 Tara Ziemba/Getty Images Entertainment/Getty Images
Trump Just Called Stormy Daniels A 'Horse Face' & Twitter Is Horrified
In more presidential news that can be filed under absolutely unforgivable and totally deplorable, Trump just called Stormy Daniels a "horse face," and he's gone too far — again. This recent cheap shot against Daniels, real name Stephanie Clifford, is just another example of Trump's lack of self-control and overall anger towards women who intimidate and challenge him.
This is Trump's latest response to the Daniels saga. On Tuesday, a federal judge dismissed Daniels' latest defamation suit against Trump saying he is entitled to full legal fees from Daniels.
Well, talk about defamation! To add insult to injury, he even spelled her name wrong.
Rumors about Trump and Daniels came to light during the 2016 presidential election when news outlets claimed that Trump's lawyer allegedly paid Daniels $130,000 in hush money to stop her from going to the press about her alleged affair with Trump, according to New York Magazine.
Today's "horse face" remarks did not go unnoticed by Daniels, who referenced Trump's, "hatred of women and lack of self control," in her tweet below:
And her lawyer, Michael Avenatti, whom Trump called third rate, was equally enraged, going so far as to call him a liar and a cheater and a "disgusting misogynist." His tweet read:
Make no mistake about it, this isn't the first time Trump's made nasty comments about a woman's appearance. In fact, his misogyny goes back — way back. And, this doesn't even include his now famous "pussy grabbing," remarks to now defunct Entertainment Tonight anchor, Billy Bush, according to Slate.
Below, is just the tip of the iceberg in terms of his callous remarks against women, according to Buzzfeed.
And who could forget Trump's visit to The Howard Stern Show, where he made an overarching, generalized statement about all women, according to BuzzFeed News. In reference to actress Nicolette Sheridan Trump said, "A person who is very flat-chested is very hard to be a 10." The list goes on and on, according to the report by Buzzfeed News.
On the same show, Trump had this to say about actress and humanitarian, Angelina Jolie:
I never thought she was good-looking. I don't think she's got good skin. I don't think she's got a great face. I think her lips are too big, to be honest with you, they look like too big.
Just what everyone wants from a president, right? And, one has to ask, what message does this send to girls, when the President of the United States, who holds the highest seat in the nation, says such disparaging remarks about women — remarks that are often unsolicited and deeply personal.
Perhaps it is a teachable moment. Scratch that, IT IS a teachable moment. Tell today's young women that their worth is not based on physical attributes. This is exactly what a man should not do, especially those in power. It's this kind of behavior, from the president himself, that is fueling the patriarchy to dismiss women. Now, more than ever, it's important to encourage girls to grow up to be powerful members of society. They are not just another pretty face (because that doesn't matter), but a being of light and change.
One look at Twitter and you can see just how little chill people have over Trump's latest comments:
And, in an ironic twist, Melania is still head of the "Best Best" anti-bullying campaign, according to NPR News. Being president does not exempt one from being a bully, rather he's showing that it gives you a green light and a free pass to be a bully. And if this latest 'horse face" comment isn't proof, then what it?