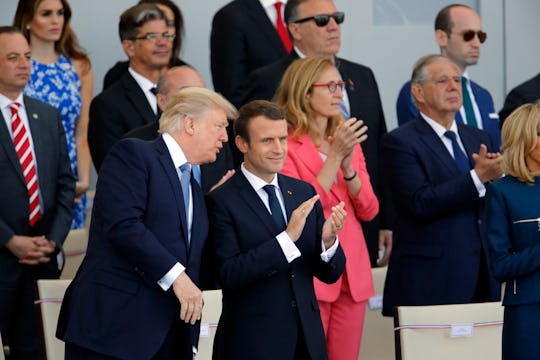 Thierry Chesnot/Getty Images News/Getty Images
Behold: Trump & Macron's Awkward AF Handshake
President Donald Trump doesn't exactly have the best track record when it comes to greeting other world leaders. In fact, watching footage of the POTUS shaking hands with fellow heads of state can feel downright uncomfortable. There was his yanking handshake with Japanese Prime Minister Shinzo Abe, and Canadian Prime Minister Justin Trudeau's initial hesitation at Trump's offered hand became an instant meme. But while wrapping up his visit with French President Emmanuel Macron in Paris Friday, Trump and Macron had the most awkward handshake ever — and unsurprisingly, the tweets about it were completely on point.
According to CNN, the excruciating 29-second exchange occurred as the two men and their wives prepared to say goodbye following an appearance at a Bastille Day parade in the French capital. But though the handshake seemed to start out normally, it quickly morphed into something pretty weird. There was the usual tugging on the part of Trump, followed by his standard "hand pat" move. That seemed to be the point at which it would have made sense to actually let go of one another's hands, but since the unwritten rule appeared to be that pulling away from a handshake is a sign of complete and total political weakness, neither of them actually did.
Instead, inexplicably, they continued to walk along, holding each other's grip, even maintaining the handshake while Trump kissed the French First Lady, Brigitte Macron, goodbye.
If that wasn't bad enough, the three of them then stood there, both Macrons engaged in an odd handshake with Trump, until finally Brigitte managed to pull her hand away. Yet the two men continued to stand there for a few more seconds before letting go, finally ending the discomfort with a few pats on each other's shoulders.
On Friday, Trump shared a few tweets about his visit, saying that he considered it a "great honor to represent the United States" at the parade, and that he and Macron had had "great conversations" on a number of issues during his trip. But Twitter users seemed far too weirded out by their parting handshake to notice:
Others had some choice comments in response to Trump's attempted show of dominance:
... While some discussed what seems to be Macron's attempt to put Trump in his place:
Clearly though, many haven't yet recovered from Trump's other handshake disaster on Thursday, when the POTUS greeted Brigitte Macron with his signature handshake tug, and then attempted to compliment her by saying "You're in such great shape" and that she was "beautiful," according to People.
Honestly, the entire thing was pretty difficult to watch — and truth be told, it's still not even really clear exactly what was happening. But with the Macrons being only the latest in a slew of truly awful Trump handshakes, perhaps it might be time for somebody to give the president a few pointers for the future.