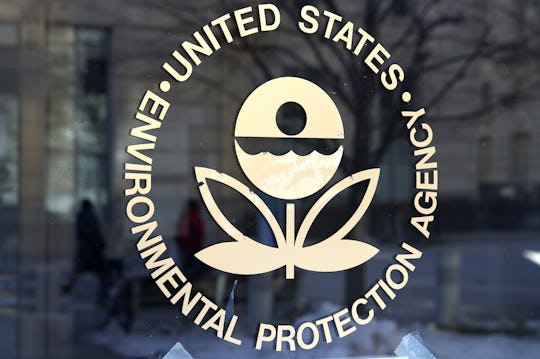 Justin Sullivan/Getty Images News/Getty Images
Trump's Latest Reported EPA Pick Is Troubling
Talk about a conflict of interest: According to Axios, President Donald Trump has his eyes set on Jeff Holmstead for Deputy Administrator of the Environmental Protection Agency (EPA). Why is this so problematic? Trump's EPA pick was a fuel company lobbyist, which means that his interests are questionable at best. The lawyer has a history of defending big names for large sums of money, so many are already worried about the fate of the environment should Holmstead be the final choice.
Holmstead's multi-million dollar clients are largely made up of coal mining and utility companies. A current partner at Bracewell LLP, Holmstead's teams "work together on a daily basis to advise and defend companies and business groups confronting major environmental and energy-development challenges, both domestically and globally," Bracewell's site shares. Well-versed in "the environmental and energy challenges facing the business community," Holmstead "advises clients dealing with an increasingly complex regulatory, legal and public relations landscape."
Bracewell specifically lobbies "for oil refineries urging EPA to change the types of companies that must comply with a federal ethanol mandate," Axios reported. In his work and in the work of his law firm, Holmstead prioritizes the revenue of his clients, navigating the existent environmental regulations to his clients' benefit. Any way you look at it, the environment comes in dead last.
Another case of Holmstead's longstanding defense of business over environment exists in Holmstead's support of the "Clear Skies Initiative" — a piece of legislation which, in a massive misnomer, was written to allow three times more mercury than previous legislation. Though the dangers of mercury are well-known, Holmstead is quoted as claiming that "the benefits of reducing mercury are very insignificant." All of this begs the question: Is Holmstead the right person to, as the agency's name indicates, protect the environment? His record shows that his priorities lie elsewhere.
Despite these strong stances, Holmstead has garnered a reputation as a moderate within the GOP. Holmstead was an EPA official under President George W. Bush and, during that time, the reforms that he worked toward weren't seen as severe enough for conservative critics.
In both his private and public records, Holmstead's constant fight has been against the environment, not for it. His work to deregulate environmental protections in order to bolster the fossil fuel industry runs counter to the EPA's inherent mission. If the environment is truly to be helped, the EPA needs a leader who can balance a climate climate change denying president who went so far as to leave the non-binding Paris Climate Agreement. Sure, things could be a lot worse as far as conservative EPA pick goes, but Holmstead's "moderate" stances don't do enough.