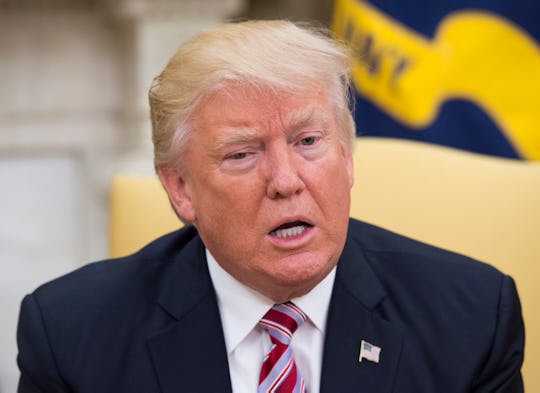 Pool/Getty Images News/Getty Images
Trump Trolls Rosie O'Donnell But Misses The Point
Whichever side you are on, people have mixed feelings about President Donald Trump using his "You're Fired!" catchphrase again within months of being in the White House. Both Democrats and Republicans have blasted the president's decision to give FBI director James Comey the boot on Tuesday. Trump subsequently went on a Twitter rant to defend himself this week, calling his opponents "hypocrites" because they had previously disliked the way Comey had handled the Hillary Clinton email investigation. Then, on Thursday afternoon, Trump posted an old Rosie O'Donnell tweet about Comey needing to be fired, and proved yet again that he doesn't get why people are outraged with his abrupt decision (Hint: it's not simply because Comey was fired, it's that Trump decided to do so when the FBI was at the height of its investigation into Russia's interference with the presidential election. Big difference).
Aside from Trump ignoring this and drawing even more attention to the fact that he's trying to change the course of this important discussion, remember that the 55-year-old comic and Trump have never been the closest of friends — in fact, they've been at each other's throats since 2006 when their very public longtime feud began, according to CNN.
For example, among many other things, O'Donnell has slammed Trump for his multiple marriages and has called him "a snake-oil salesman on Little House On The Prairie," CNN reported. And Trump has also said some horrible things about O'Donnell, most recently during his presidential campaign when he was called out by Fox News' Megyn Kelly for calling women "fat pigs, dogs, slobs, disgusting animals." To which he responded, "Only Rosie O'Donnell."
Trump ignited this feud yet again on Thursday when he dug up an old tweet from O'Donnell. Back in December, she wrote: "FIRE COMEY," presumably in response to the many missteps Comey had made in terms of handling Clinton's investigation. Taking on a new level of trolling, Trump retweeted the message this week, adding, "We finally agree on something Rosie."
One hour later O'Donnell responded, writing: "u don't even realize the kind of trouble u r in - comeys people believe in him - for real - they have the proof - u r a sadistic man #USA."
Whatever you might think of her, O'Donnell has a point, Trump does not seem to realize what's going on — or is refusing to acknowledge why the American public is fuming over Comey's dismissal. Compounding the matter, up until the week before Trump fired him, the president himself and the White House had expressed strong confidence in Comey, according to ABC News.
Three days into his presidency, for instance, Trump appeared to blow a kiss at Comey during a White House event. Then, a month and a half later on March 7, White House Press Secretary Sean Spicer said that Trump supported Comey. "I have no reason to believe he doesn't," Spicer said at a press briefing, according to ABC News. "He hasn't suggested that to me."
Not too long after this comment, Comey debunked Trump's claim that President Barack Obama "wiretapped" his campaign and also disclosed that the FBI had been pursuing an investigation into Russian interference in the election, and "whether Trump or aides colluded with the Russians," according to The Atlantic. Comey was fired less than two months later, on May 9.
Trump's latest tweet may have ignited yet another feud with his longtime nemesis, but the outrage is far from over and the probe into Comey's firing isn't disappearing any time soon either. Especially since, even without Comey, the FBI will reportedly continue its investigation into possible Trump campaign ties to Russia.