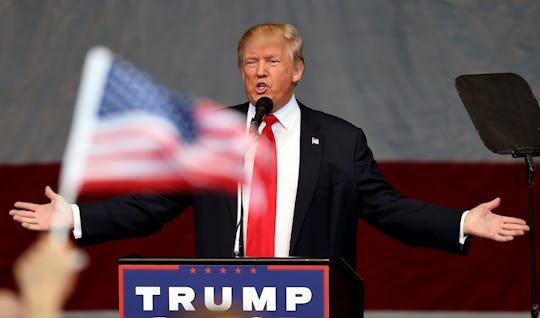 Ethan Miller/Getty Images News/Getty Images
Trump Rally Attendee Heckles Child With Disabilities & Her Mother Is Rightfully Upset
As the Trump campaign continues to make stops all over the country, holding rallies and town halls for supporters to attend and hear their favored Republican candidate speak, the intensity of the clashes that have inevitably followed has increased. This time around, a Colorado mother is rightfully upset after a Trump rally attendee allegedly heckled her child, who is disabled. Jennifer Mau claimed that she and her 7-year-old daughter were reportedly harassed for leaving the event early and subsequently had to be escorted out by the Secret Service.
According to local ABC News affiliate KMGH, Mau told the news station that she attended the rally with her daughter Chloe because she was an undecided voter and wanted to know more about GOP nominee and what a Trump presidency would be like for people with disabilities.
Mau told KMGH that her daughter was born with several birth defects that have already resulted in several surgeries in her short life. She explained that Chloe was born without a jaw bone or ears and has to receive her nutrients through a feeding tube. As any mother would be, Mau was concerned for her daughter's future.
About 20 minutes into the rally, Mau decided to leave, but an attendee reportedly stopped the two on their way out. "Somebody said, 'why are you leaving?' and basically that struck a nerve," Mau told the KMGH reporter. "I said, 'Why are you here? He makes fun of people like you.'"
Mau told the news station that was she was sitting among people with disabilities at the Trump rally and she was questioned further by the supporter about her decision to leave. As she exited the area, the woman allegedly followed her.
"This lady is following me, screaming and yelling at me that if I loved my daughter I'd vote for Trump, and that I need to get educated because he didn't mock somebody on purpose," Mau said in the interview with KMGH.
The instance the Trump supporter was referring to, as Scary Mommy points out, was the time that Trump horrifically mocked New York Times reporter Serge Kovaleski, who has a congenital joint condition that limits his arm movements. At a campaign event last November, the Republican candidate was widely criticized for twisting and contorting his arms as he referred to an interaction with a reporter.
In the aftermath of the heated backlash, Trump said that he had no intention of mocking Kovaleski and claimed he didn't remember which reporter he was referring to or who he was. But, Kovaleski has said, according to The Huffington Post, that he and the Republican candidate were on a "first-name basis" during much of the 1980s.
"It made me sad, it made me want to vomit," Mau told the reporter this week, speaking to her and her daughter's unfortunate encounter. "Chloe is my life, Chloe is my heart. I live to advocate for Chloe, and to be there for Chloe."
While Mau and her daughter's experience at the Trump rally was understandably upsetting and rattling, it's comforting to know that it struck a nerve with others in the audience. According to KMGH, some people at the rally walked out with the pair and told Mau that her daughter was beautiful.
Even though this election has been especially vicious, there is no place for mockery of the disabled or heckling a voter's decision to leave a political event when they feel the need.