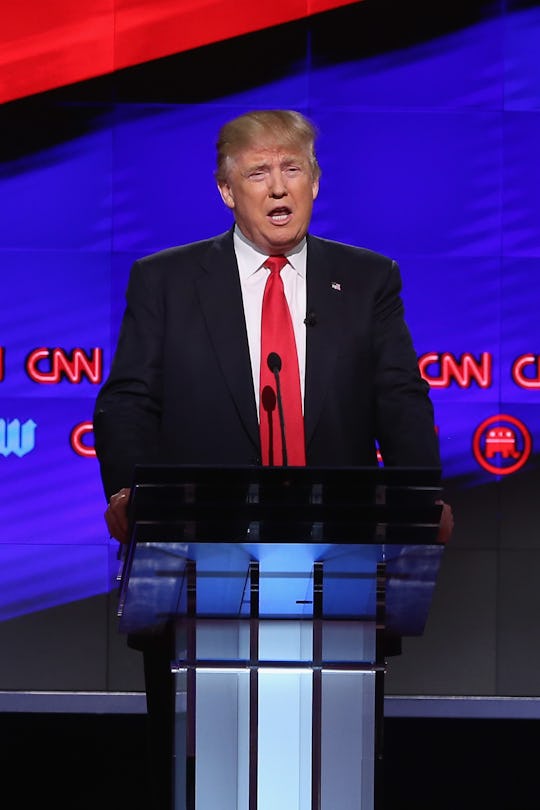 Joe Raedle/Getty Images News/Getty Images
Trump Rally In Cincinnati Cancelled, & The Latest With Violence At His Campaign Events
After having to cancel a campaign rally in Chicago on Friday afternoon due to violent protests, news outlets reported that Donald Trump cancelled a rally in Cincinnati, Ohio scheduled for Sunday. But apparently there is a little confusion about that. The Guardian reported that Trump was canceling the Cincinnati rally due to rumors of supposed protests, but by Saturday afternoon Trump took to Twitter to speak directly to supporters. He wrote, "the rally in Cincinnati is ON. Media put out false reports that it was cancelled. Will be great - love you Ohio!"
It's no wonder that reports of a cancellation were circulating around the Internet. On Friday, The New York Times reported, "hundreds" of protestors shut down the Chicago rally with a long, sustained chant. Reportedly, Trump supporters "seemed stunned and slowly filed out in anger." Trump blamed Vermont Sen. Bernie Sanders' supporters for the confusion. He called the protestors "thugs" on Twitter, saying "The organized group of people, many of them thugs, who shut down our First Amendment rights in Chicago, have totally energized America!" Protestors seem to be following the Republican frontrunner across the country and show up at most of his rallies. On Saturday morning, Secret Service climbed onto the stage to shield Trump from a prostester in Dayton, Ohio.
The billionaire insists that he is not responsible for the violence at his rallies, though he has protestors escorted out by his Secret Service at each rally. A Breitbart reporter recently filed charges against Trump's campaign manager for bruising her arm while he removed her. A Trump supporter in North Carolina was arrested on Thursday for punching a protestor in the face at a rally. The man, John McGraw, said that the next time he saw the protestor, he "might have to kill him."
The Republican candidate can't be held directly responsible for the actions of his supporters at rallies, but he does encourage violence on some level with his rhetoric towards protestors. He currently is the only candidate experiencing this level of discord at his rallies. Others in the field have taken notice, most notably Ohio governor John Kasich who has said that Trump has created a "toxic" environment.
Kasich told supporters that there is "no place for a national leader" to encourage or accept violence at their rallies. Texas Sen. Ted Cruz also spoke out against Trumo saying that he "affirmatively encourages violence." Florida Sen. Marco Rubio also agreed that "words have consequences," and that Trump may bear some responsibility for the discord.
Even the Democrats have joined in speaking out against the real estate mogul's methods of gathering people:
Donald Trump maintains that the violence is simply due to the fact that our country is "divided." But each instance of violence and removing protestors aggressively only serves to make that divide even greater it seems. It's a little unnerving to watch or listen to — let's hope Trump starts to ask his supporters to take a deep breath. Pushing people around is no way to make anything great.