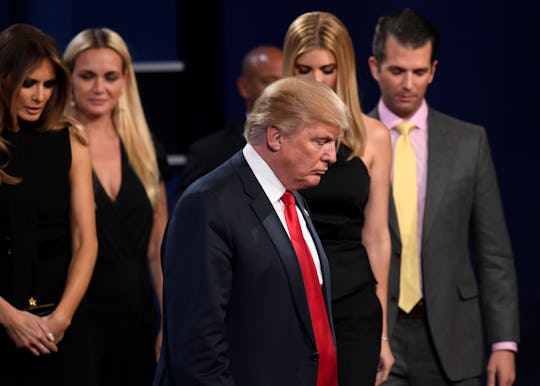 ROBYN BECK/AFP/Getty Images
Trump Refusing To Accept The Election Results Isn't Just Undemocratic — It's Dangerous
Donald Trump quietly slunk off of the stage at the University of Las Vegas Nevada after Thursday night's final presidential debate, while his opponent, former Secretary of State Hillary Clinton, remained in the auditorium to greet her supporters. But hours later, it was a different story, as he claimed in a trademark 3 a.m. tweet that he'd won. Could this be a sign of what's to come on Nov. 8? Trump's refusal to accept the election results is becoming a real possibility, and he said as much during the debate.
After claiming for months that the only way he could lose the election was if it was rigged, moderator Chris Wallace asked Trump point-blank if he would concede, should he lose the election. Trump characteristically danced around the subject, refusing to give a straight answer, saying "I will look at it at the time," and "I will keep you in suspense." Trump surrogates such as his campaign manager Kellyanne Conway, running mate and Indiana Gov. Mike Pence, and daughter Ivanka Trump insisted that he will accept the results, which feels a lot like the owners of a rescued dog insisting that, although he's never been around any children before, their dog will do just fine at your Fourth of July cookout.
It's growing increasingly likely that Clinton will win the election, and Trump's statements at the debate (and several other public comments) seem to imply that he won't willingly concede, going against a 219-year tradition of peaceful, undisputed transfer of power. Even in 2000, when a close margin in Florida triggered an automatic recount, Al Gore eventually conceded to George W. Bush "for the sake of our unity as a people and the strength of our democracy," according to History.com. Trump, meanwhile, has displayed little faith in the democratic process, and his message has long been one of divisiveness rather than unity, as revolts erupt even within his own party, according to The Atlantic.
Trump's possible refusal to concede isn't just a matter of a petulant reality star starting a Twitter war; there's a clearly documented history of brutal violence among his supporters, often incited by Trump himself, according to Mashable. He's even been investigated for inciting a riot by North Carolina's Cumberland County Sheriff Department and admonished by the Secret Service for seemingly implying that "Second Amendment people" should assassinate Clinton.
If Trump won't accept defeat himself, there's no reason to expect that his supporters will, and from the behavior they've displayed thus far, that could have very dangerous consequences. Hate crime rates spiked after the United States elected its first black president (whose citizenship Trump only acknowledged one month ago). In the wake of the defeat of a candidate who's known for having racist, xenophobic, misogynistic, and anti-Semitic supporters – by a woman, no less – one can't help but wonder what's in store.