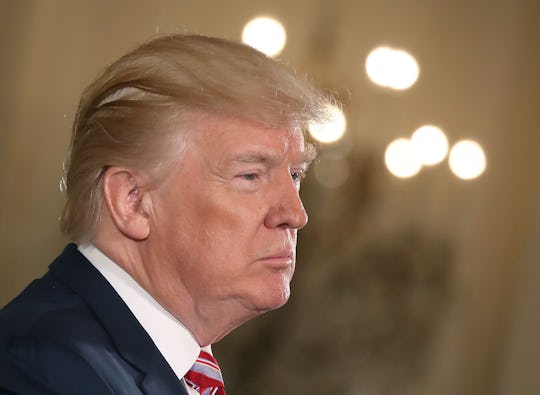 Mark Wilson/Getty Images News/Getty Images
Trump Reportedly Asked DNI Head To Intervene On Russia
It turns out that, reportedly, President Donald Trump's attempts to influence the investigation into Russia may not have stopped at former FBI Director James Comey. A new report out of The Washington Post alleges that Trump asked a top intelligence official to intervene in the Russia investigation as well. Allegedly, Trump asked Director of National Intelligence Daniel Coats to convince Comey to back off on his investigation of former national security adviser Michael Flynn. After discussing the matter with other officials, Coats reportedly decided that intervention would be inappropriate. The White House did not immediately respond to Romper's request for comment.
According to The Post, the conversation in question happened on March 22, when Coats attended a White House briefing. Trump reportedly asked everyone besides Coats and CIA Director Mike Pompeo to leave the room, and then began complaining about the way that Comey was handling the investigation into whether members of the Trump campaign colluded with Russia during and after the 2016 election.
In a statement to the outlet, Brian P. Hale, a spokesman for the Office of the Director of National Intelligence, said,
Director Coats does not discuss his private conversations with the President. However, he has never felt pressured by the President or anyone else in the Administration to influence any intelligence matters or ongoing investigations.
Hale would not, however, specifically answer whether or not the president had asked Coats to intervene with Comey about the Flynn investigation.
This raises further questions about whether or not the president allegedly attempted to obstruct justice when it came to the Russia probe. Allegations of obstruction of justice first arose after Trump abruptly fired Comey back in May, and intensified after it came out that Comey had kept a record of a conversation in which Trump allegedly asked him to stop investigating Flynn. Flynn was fired after misrepresenting conversations he had with the Russian ambassador during the transition between the election and Trump's inauguration.
On Wednesday, Coats will testify before the Senate Intelligence Committees, so Americans may get a clearer sense then of what the president did or did not ask him to do.
And on Thursday, Comey himself will take the stand to testify about his interactions with Trump, and why he wrote the memo documenting the conversation in which Trump reportedly said, "I hope you can see your way clear to letting this go, to letting Flynn go." Comey is expected to stop short of accusing Trump of obstruction of justice.
Trump, for his part, is expected to live-tweet the Senate hearing.
Just another day in 2017!