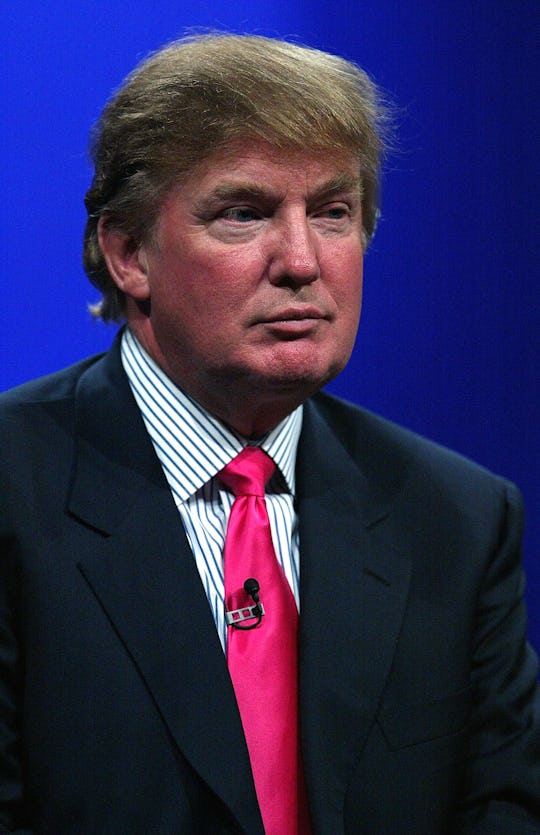 Frederick M. Brown/Getty Images Entertainment/Getty Images
Trump Reportedly Hosted Parties With Underage Girls & It's More Trouble For His Campaign
Mounting sexual assault allegations against GOP presidential nominee Donald Trump might unfortunately help verify previous illicit claims that the candidate continues to deny. According to two men who were present at the events, Trump reportedly hosted parties with underage girls ("as young as 15"), illegal drugs, "a lot of sex," alcohol, and many, older men in the late '80s and early '90s. Trump has repeatedly denied all sexual assault allegations in the past, claiming that they are part of a major conspiracy to prevent him from getting elected. Romper reached out to the Trump campaign for comment but did not immediately receive a response.
One of the men who claimed to be present for some of Trump's alleged parties, a fashion photographer who asked for anonymity, paints a picture of alcohol and drug fueled endeavors replete with young models who were told: "You'll meet rich guys who will help you." The other man quoted in The Daily Beast's piece, male model Andy Lucchesi, keeps his statements about the alleged incidents relatively vague, noting: "I don't want to get [Trump] in trouble." Ultimately, though, he did confirm that, at these parties, there was allegedly cocaine available, as well as multiple, very young women. Lucchesi claimed:
A lot of girls, 14, look 24. That's as juicy as I can get. I never asked how old they were; I just partook. I did partake in activities that would be controversial, too.
The photographer interviewed highlights the imbalance of power that was present at Trump's parties, saying that the girls were "over their heads." The situations were often volatile:
There were always dramas because the men threw money and drugs at them to keep them enticed. It's based on power and dominating girls who can't push back and can be discarded. There's always someone to pick them back up. Nobody wants to call home and say "Help me."
As for Trump? "He'd wander off with a couple girls. I saw him. He was getting laid like crazy," the photographer claimed.
Whereas no direct sexual assault claims against Trump have stemmed from these alleged parties as of yet, a rape case against Trump from a then 13-year-old bears some concerning similarities. An April 2013 lawsuit, filed by an anonymous accuser, alleges that Trump and friend Jeffrey Epstein sexually and physically abused her and other young girls, threatening that her family and she would be "physically harmed if not killed" in the event that she revealed any of the incident. The woman claimed to have an eyewitness for all aspects of her claims — a woman who has also testified on record and admits that, from 1991-2000, her job was "to get attractive adolescent women to attend these parties" hosted by Trump and Epstein. It's of note that Epstein is a convicted pedophile.
Such an extensive catalogue of cases against Trump is bolstered by Trump's own, sexually-aggressive statements. In 2005, Trump was recorded bragging to then-Access Hollywood host Billy Bush about allegedly "moving on" women sexually in an aggressive manner, saying:
I just start kissing them. It's like a magnet. Just kiss. I don't even wait. And when you're a star they let you do it. You can do anything ... Grab them by the pussy. You can do anything.
The Trump campaign has so far not responded to the new report, although earlier in October, Trump's general counsel Alan Garten told LawNewz.com, regarding the rape case and other claims like it,
As I have said before, these allegations are categorically untrue and an obvious publicity stunt aimed at smearing my client.