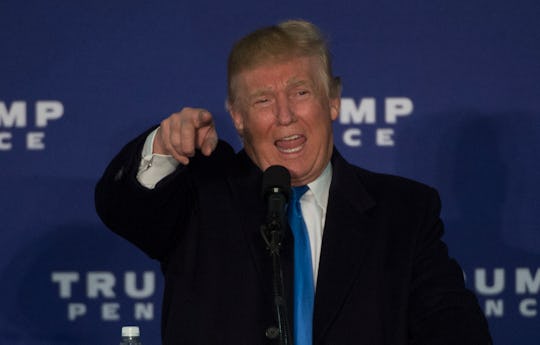 MOLLY RILEY/AFP/Getty Images
Trump Reportedly Kicked A 12-Year-Old Protester With Cerebral Palsy Out Of His Rally
Republican nominee for president Donald Trump is no underachiever. He's on a last-minute barnstorming Blitzkrieg where he appears to be trying to leave no American voter left who he hasn't personally insulted. You might recall his big "Birtherism" debut, being horrified all over again when he called Mexicans "rapists," or you might remember gasping over his suggestion that women who disagree with him are "pigs." But now Trump reportedly kicked a 12-year-old with cerebral palsy out of his rally. But there's a happy ending. After being kicked out of Trump's rally, the little boy got to meet President Obama out on the campaign trail for Trump's opponent, Hillary Clinton.
But for Trump, it's a new low, even in a campaign full of them. Romper reached out to the Trump campaign for comment, but has not yet heard back.
"I hate Donald Trump," J.J. Holmes told the Washington Post using his computerized vocalization device. Holmes, along with his mom, Alison, was reportedly kicked out of a Trump rally in Tampa on Saturday.
He and his mom said they went to the rally to protest the way the candidate has mocked people with disabilities. "The crowd started chanting 'U-S-A' and pushing his wheelchair," Alison Holmes to the Post. "We were put out by security. Mr. Trump kept saying, 'Get them out.'"
The White House Press Pool caught J.J. meeting with President Obama the very next day after a rally in Kissimmee, Florida, a nearby town, according to Talking Points Memo.
Here's a photo of the meeting.
In any other news day during any other campaign a nominee for president leading a mob kicking out a wheelchair bound, disabled child who was exercising his First Amendment right would make headlines. But the media and voters both seem to be numb to Trump's aggressive, menacing behavior, and that of his supporters.
On Friday night, a protester with a "Republicans Against Trump" sign told The Guardian he was chocked, kicked, and afraid he would be killed at a Reno, Nevada rally. One of the members of the crowd reportedly mistakenly shouted "gun!" prompting Secret Service to cover and rush Trump off the stage, according to The Guardian. The Secret Service later said no weapon was found, The Guardian reported.
"I had a sign that said 'Republicans against Trump.' It is a sign that you can just print off online," the protester, Austyn Crites, told The Guardian. He expected the booing he received after brandishing the sign, but said, "And then all of a sudden people next to me are starting to get violent; they're grabbing at my arm, trying to rip the sign out of my hand."
The next thing Crites knew, he was on the ground being kicked, punched, and even grabbed by the testicles, he said. So much for the First Amendment at Trump events. Trump's attitude toward protesters has always been in stark contrast to Obama, who strongly defended a Trump protester at a recent Fayetteville, North Carolina, rally.
"Hold up. Hold up!" Obama shouted toward a crowd chanting down the protester, according to ABC News.
Obama continued:
Hold up. Everybody sit down and be quiet for a second. Everybody sit down and be quiet for a second. Now listen up. I'm serious. Listen up. You've got an older gentleman who is supporting his candidate. He's not doing nothing. You don't have to worry about him. This is what I mean about folks not being focused. First of all, we live in a country that respects free speech. Second of all, it looks like maybe he might have served in our military and we ought to respect that. Third of all, he was elderly and we got to respect our elders. And fourth of all, don't boo. Vote!
That's how an American president handles a protester. Someone might want to remind Trump before his supporters wheel a disabled child our of a rally, or before Trump himself encourages his followers to attack another peaceful protester.