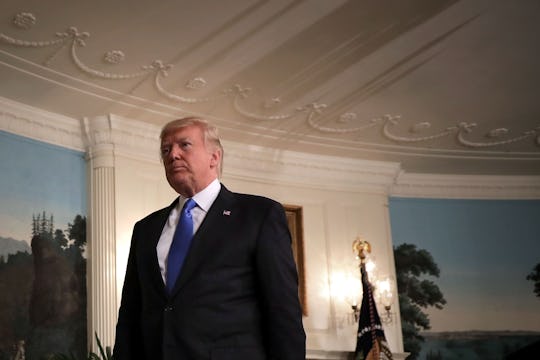 Chip Somodevilla/Getty Images News/Getty Images
Trump Responds To Obstruction Allegations
Wednesday evening, the Washington Post reported that special counsel Robert Mueller's investigation of President Donald Trump has expanded to include possible obstruction of justice charges, according to five separate sources. And it turns out that Trump has responded to obstruction of justice allegations the same way he responds to all the other pieces of news he dislikes: with a pair of angry early-morning tweets. "They made up a phony collusion with the Russians story, found zero proof, so now they go for obstruction of justice on the phony story. Nice," Trump tweeted just before 7 a.m. Eastern Time on Thursday. The White House did not respond to Romper's request for comment.
An hour later, perhaps after stewing for a bit, or watching more cable news, another tweet appeared, and this time, the president seemed even more agitated. Trump referred to Mueller's investigation as "the single greatest WITCH HUNT in American political history," which is odd, considering his role in the "birther" movement, his repeated and disproved Benghazi claims, and his promise to former Secretary of State Hillary Clinton that if he won the presidency, he'd "get a special prosecutor" to investigate her already thoroughly investigated email server.
Last July, the FBI began its investigation into Russian meddling in the 2016 U.S. presidential election after the revelation that the Democratic National Committee was hacked. In addition to turning up hackers, trolls, and fake news, it was also discovered that several Trump associates had undisclosed communications with Russian leadership and surrogates leading up to the election. As such, the investigation has also focused on the possibility of collusion between Russia and the Trump campaign. After six months of denials, Trump finally conceded in January that Russia did hack the DNC, but still denies that the intent was to force his win, despite the FBI, CIA, and NSA's confidence in that conclusion.
During former FBI Director James Comey's recent testimony to the Senate Intelligence Committee, Comey alleged that Trump asked for his loyalty, directed him to drop the FBI investigation of former national security adviser Michael Flynn, and ultimately fired Comey "because of the Russia investigation." Naturally, such allegations must be investigated, but according to the Post, the obstruction investigation began shortly after Comey was fired on May 9. Trump has hired a personal attorney, Marc Kasowitz, to handle all matters relating to Russia, but still, nobody has managed to talk him out of tweeting.