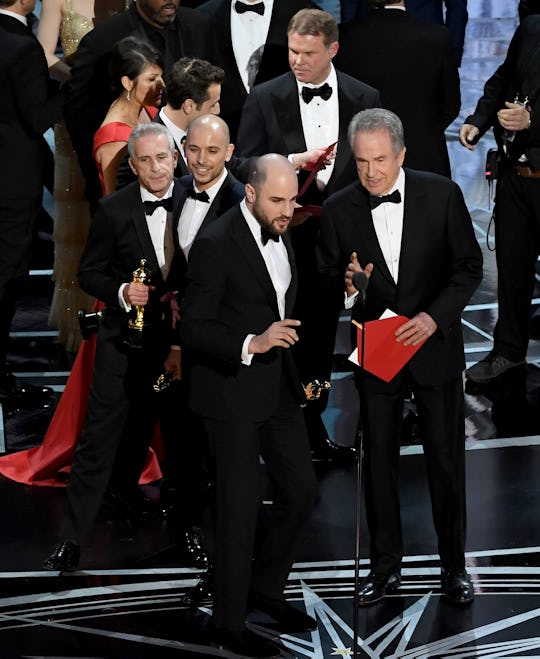 Kevin Winter/Getty Images Entertainment/Getty Images
Trump Knows What Happened At The Oscars, Guys
For those of you who think that not everything needs to be about President Donald Trump, today you are proven wrong yet again, because Trump says that the Best Picture mistake at the Academy Awards happened because of him. That's right. In an exclusive interview with far-right website Breitbart News on Monday, Trump, speaking from the Oval Office, said, "I think they were focused so hard on politics that they didn't get the act together at the end."
Trump continued with this theory, telling a Breitbart reporter that the focus on politics was "a little sad. It took away from the glamour of the Oscars. It didn't feel like a very glamorous evening. I've been to the Oscars. There was something very special missing, and then to end that way was sad."
Aside from affirming that "sad" is Trump's go-to adjective in both tweets and actual talking, these statements seem to indicate that the president has difficulty grasping the cause-and-effect nature of reality. If thing "X" happens — in this case, "X" being that the incorrect film was announced for Best Picture — then Trump assumes that this effect, X, was necessarily caused by, or somehow related to, himself, Donald Trump. As reported at multiple outlets, the actual cause of the Best Picture snafu was that presenter Warren Beatty was erroneously handed the Actress in a Leading Role envelope. But to Trump, the cause was Trump.
For context, this isn't the first year that Trump, a former owner of the Miss Universe Organization, has entertained very specific opinions about the Oscars; This is merely the first year that we've had to hear his armchair criticisms from the Oval Office. In 2012, Trump went so far as to produce a video, "From the Desk of Donald Trump: Oscars' Biggest Losers," in which he maligned actor Sacha Baron Cohen, speaking at length about wishing that Cohen had been beaten up by a security guard. He also spoke about the Oscars' post-show parties, saying, "I hear that the absolute worst party of the evening was the Vanity Fair party. It was boring. People were sleeping."
(Incidentally, Trump has had an effect on Oscar parties; As reported last week at Vanity Fair, the United Talent Agency in Los Angeles planned a pre-Oscars party to raise $250,000 for the American Civil Liberties Union and the International Rescue Committee.)
In 2013, Trump was enraged that Django Unchained had been nominated for Best Picture. Trump claimed in a tweet, "Django Unchained is the most racist movie I have ever seen, it sucked!" The following year, in 2014, the commander in chief (who at the time still hosted The Celebrity Apprentice), displayed his acumen for incisive critique by tweeting, "This is Amateur Night — who the hell is in charge of this production?" He followed this detailed analysis with another Tweet: "I should host the Oscars just to shake things up — this is not good!"
By 2015, admittedly, Trump was more specific about where the Oscars went wrong with production, tweeting, "Worst graphics and stage backdrop ever at the Oscars. Show is terrible, really BORING!" (Maybe one day he'll be this specific about policy?) Also in 2015, Trump reiterated his 2014 desire to host to awards show: In a frighteningly bombastic Instagram video, he argued that the the solution to the Oscars' trenchant problems would be he, himself, Donald Trump. "I have the perfect host for next year: Me," he said.
And in retrospect, perhaps Trump should have focused his efforts on hosting the Academy Awards. Who would have guessed in 2015 — also known as the "before time" — that Trump would soon be exercising his obviously deep need to talk about the Academy Awards not from his desk at The Trump Organization, but from the Oval Office.
The actual Oval Office.
According to Breitbart News — which from 2012 until 2016 was helmed by Steve Bannon, now Trump's chief strategist — the conversation about the Oscars "comprised just one part of a lengthy interview, which ranged in topics from healthcare to tax cuts to immigration to trade and more. The rest of the interview is forthcoming here on Breitbart News."
In other words, priorities.