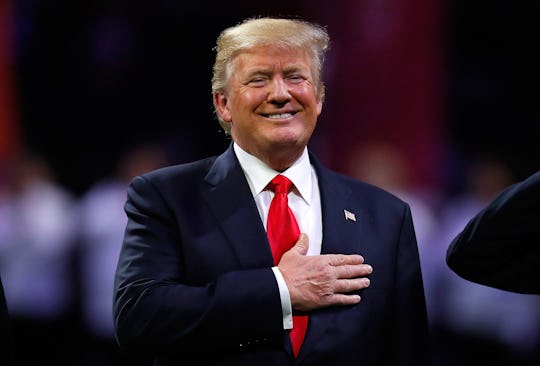 Kevin C. Cox/Getty Images Sport/Getty Images
Trump Says He Would Beat Oprah In The 2020 Race, & The Internet Is Not Happy
One of the more interesting things to come out of the 2018 Golden Globes was the collective call for Oprah Winfrey to run for president next term. A particularly moving speech at the award show has some fans begging her to take on the presidency next. Trump chimed in on Tuesday to say that he thinks he could beat Oprah in the 2020 presidential race, but the internet has mixed opinions about how true his statements are.
Reporters asked Trump about a potential race against Winfrey during a meeting with lawmakers at the White House on Tuesday. When a reporter asked the president if he thought he could beat her in an election, Trump responded that he doubted Winfrey would run, but if she were to run, "Yeah, I'll beat Oprah, Oprah would be a lot of fun..." he said.
The idea that Winfrey would run for office came about after her moving speech at the Golden Globes, presented when she was awarded the Cecil B. DeMille award. Building on the momentum of the "Time's Up" movement, Winfrey told the story of a black woman, Recy Taylor, who was raped in 1944 by six white men. The all-male jury of her peers failed to indict her attackers and Taylor died without ever seeing the justice she deserved. Winfrey used this story to highlight the years of oppression women — especially women of color — have faced. Shortly thereafter, the hashtags #Oprahforpresident and #Oprah2020 began trending on Twitter.
Trump chimed in on the possibility of a Winfrey 2020 presidency with his typical lack of humility, claiming that it "would be a lot of fun" to beat her. Users on Twitter were quick to respond to his comments and disagree with him.
Some pointed out which kinds of races they believed Trump could not beat Winfrey in, both presidential and otherwise.
Others pointed out how awkwardly Trump worded his response to the question, including his referring to himself in third person.
Today posted a timely clip of Trump from 1999 when he discussed the possibility of running for office and who he would choose to run alongside him. I'll give you one guess which name he dropped.
One person pointed out that there are bigger things to worry about when it comes to the Trump presidency than which celebrity could run against him in the next term.
Others praised the wonders of Winfrey, suggesting that Trump would be sorely matched against the likes of her. Her trending hashtags are proof that there is quite a following out there, should she decide to run. Anonymous sources close to Winfrey reportedly told CNN that she is "actively thinking" about running, so there is a chance that these fans may get their wish.
While Trump didn't seem phased by the idea of competing with Winfrey, he was careful not to say anything disrespectful about her. Even Trump knows better than that, I guess.
One final reaction worth noting is the ridiculousness of two celebrities competing to be the leader of the free world.
However, considering the fact that Trump won without any political experience at all, an Oprah Winfrey presidency wouldn't be the craziest thing in the world.
Winfrey has yet to make a statement about the possibility of her running for president and the two sources close to her reportedly told CNN that she has yet to make a decision one way or another.
However, the fact that Trump is already weighing in on a potential Winfrey campaign seems to be fueling the fire of fans calling on her to run. The 2020 presidential race is still a long way off, so who knows what will happen between now and then.
Check out Romper's new video series, Romper's Doula Diaries:
Watch full episodes of Romper's Doula Diaries on Facebook Watch.