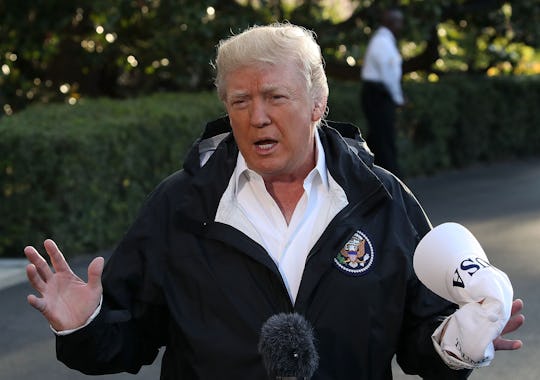 Mark Wilson/Getty Images News/Getty Images
Trump Says Puerto Rico Should Be "Proud" More Of Its People Haven't Died In A "Real Catastrophe"
In the recent string of powerful natural disasters, thousands of people were left stranded and homeless. One such site of calamitous destruction is Puerto Rico, after Hurricane Maria shook the small island almost two weeks ago. Despite the disastrous devastation there, President Trump said that Puerto Rico should feel "very proud" that more people haven't died in a "real catastrophe like Katrina." His comments have many questioning where his heart is in this hard time and criticizing self-congratulation.
Prior to the president's arrival in San Juan on Tuesday, the Trump administration received harsh criticism for its slow response to the crisis in Puerto Rico in the aftermath of Maria. Then, later, Trump congratulated himself for the job he believed he and the U.S. was doing. Then, Trump's speech in San Juan on Tuesday not only downplayed the situation, but added insult to injury as the island works to rebuild. He said, according to NBC News:
Every death is a horror, but if you look at a real catastrophe like Katrina, and you look at the tremendous — hundreds and hundreds and hundreds of people that died, and you look at what happened here, with really a storm that was just totally overpowering, nobody's ever seen anything like this.
Trump then turned to a local official for the official death toll in Puerto Rico after Maria and continued:
What is your death count as of this moment? 17? 16 people certified, 16 people versus in the thousands.
In that same speech, Trump also managed to blame the Puerto Ricans for straining the U.S. budget by requiring aid, saying:
I hate to tell you, Puerto Rico, but you've thrown our budget a little out of whack.
His insensitivity towards the plight of Puerto Ricans has prompted outrage and even more criticism of his handling of the crisis on the island. Editor at CampusSports.net Josh Sanchez tweeted out a video of Trump and captioned it:
Just when you think Donald Trump can't get any worse, this guy says to Hurricane victims, "I hate to tell you, you've thrown our budget out of whack."
According to The Washington Post, before the president went off the cuff, his visit to the small island was meant to be a series of scripted interactions, including discussions on relief efforts, a meeting between himself and senior military personal — along with Puerto Rico Gov. Ricardo Rosselló and Gov. Kenneth Mapp of the U.S. Virgin Islands — and a chance for him to meet with those impacted by the storm.
Trump also can face-to-face with San Juan Mayor Carmen Yulín Cruz, who has been openly critical of the White House's response post-Maria and has been the victim of Trump's heated accusations. Over the weekend, Trump claimed Cruz exhibited "such poor leadership" and stated that some Puerto Ricans wish to have "everything to be done for them when it should be a community effort." He also blamed the "politically motivated ingrates" and "fake news" for not recognizing "amazing work" that the federal government has done in Puerto Rico since the storm.
As Trump left the White House to head to San Juan, he disregarded comments that his response to the damage to the island has been lacking, claiming that the aid in Puerto Rico has been as effective as it is in Florida and Texas, it was just a "tougher situation," according to The Washington Post. He then launched into a monologue about how well he's doing:
I think it's now acknowledged what a great job we've done, and people are looking at that. And in Texas and in Florida, we get an A-plus. And I'll tell you what, I think we've done just as good in Puerto Rico, and it's actually a much tougher situation. But now the roads are cleared, communications is starting to come back. We need their truck drivers to start driving trucks.
Just to put things into perspective, more than half of the 3.4 million people in Puerto Rico are still without drinking water and only 5 percent of electric customers have power, according to USA Today. There have been great strides made in recovery for the island, such as USA Today's reported figures of 51 out of 69 hospitals and 295 of 456 supermarkets re-opened, but these numbers do not nullify the toll that Hurricane Maria took on the small island. Rather than downplay the disaster and pat himself on the back, President Trump should take a look around at the millions of people who still need his help — and perhaps do a bit more listening and less talking if he can't stay on-script.
Watch Romper's new video series, Romper's Doula Diaries:
Check out the entire Romper's Doula Diaries series and other videos on Facebook and the Bustle app across Apple TV, Roku, and Amazon Fire TV.