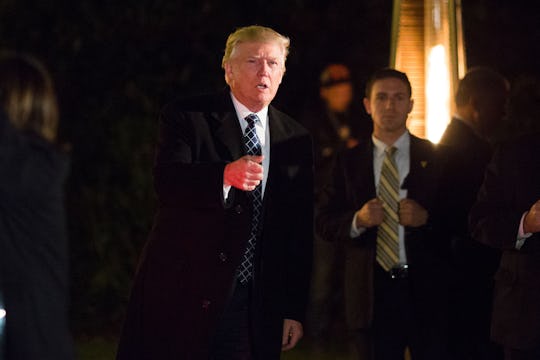 EDUARDO MUNOZ ALVAREZ/AFP/Getty Images
Trump Says U.S. "Open For Business", Just Days After $7 Million Carrier Tax Deal
Just days after Donald Trump finalized a deal with an Indiana-based air conditioning and furnace company, essentially rewarding it for reversing plans to move about 800 jobs from the state to Mexico, the president-elect has blasted off a series of tweets pledging to do the opposite. Now, Trump is threatening other businesses considering relocating their operations across the border with costly penalties — ones that Carrier, the recipient of a $7 million tax break, won't suffer even as it moves forward with other plans to shutter an entire second plant and reestablish 1,300 formerly American jobs in Mexico, where labor is cheaper. But for other businesses to do the same, in the incoming president's new view, would be an "expensive mistake" — because Trump now says the United States is "open for business."
Continuing a trend of posting early-morning tweets on Sundays, ostensibly to set the narrative for the cable news shows of the day, Trump publicized a six-Tweet missive promising to make conditions in the country friendlier to businesses, but also warned that those participating in offshoring they will soon face a tax rate of 35 percent to sell the products back in the U.S. market, up from the current 15 percent tariff, Business Insider reported. Romper reached out to the Trump transition team for comment on the Trump's tax rate, but has not yet heard back.
"This tax will make leaving financially difficult, but these companies are able to move between all 50 states, with no tax or tariff being charged," he wrote over the course of the mini Tweet-storm. "Please be forewarned prior to making a very expensive mistake! THE UNITED STATES IS OPEN FOR BUSINESS."
The Carrier deal, which saved a manufacturing plant in Indianapolis but wasn't enough to incentivize the company to salvage another in Huntington, Indiana, and the jobs stationed there, seems largely symbolic and ultimately unsustainable economically to its opponents. Most notably, former Democratic presidential candidate and Vermont Sen. Bernie Sanders wrote in a Washington Post op-ed that the company essentially "took Trump hostage and won" by threatening to move the jobs elsewhere, and then collecting on significant tax breaks simply not to do so.
Trump's first foray into making good on his 0ft-counted campaign promise of reinvigorating the manufacturing industry by creating and retaining jobs in the sector, however, is certainly a win for his nascent administration, at least in the short-term. But while commenting approvingly, President Obama's White House nevertheless pointed out that it's simply a drop in the bucket. "Mr. Trump would have to make 804 more announcements just like that to equal the standard of jobs in the manufacturing sector that were created in this country under President Obama's watch," press secretary Josh Earnest said, according to The Guardian.
In short, the one-one-one negotiation method Trump and President-elect Mike Pence, who's also the outgoing governor of Indiana, employed to get Carrier to (partly) stay, firmly categorizes him as a dealmaker, not a policymaker, as Associated Press economics writer Josh Boak summed up. The ensuing deluge of Sunday-morning tweets partly acts as a balm on that widespread criticism by indicating that he'll work to enact real regulations instead of maintaining the freewheeling, tailored-to-each-specific-situation approach. It also, again, raises questions about Trump's convictions and his ability proactively address large scale market demands and the stresses of capitalism, instead of reacting to criticism after the fact.
The real winner of the Carrier deal was Carrier — for which the deal was comparatively lucrative — and Trump, who now has a tangible victory to which he can point in the first few months of his impending presidency. But Trump's term as president is four years long, and it seems he's finally realizing he'll need more wide-reaching policies, not one-off agreements, in order to reach his stated goals.
In the meantime, some 1,300 Carrier jobs are still headed to Mexico, penalty-free and the company is very likely celebrating the $7 million tax break it won in the process.