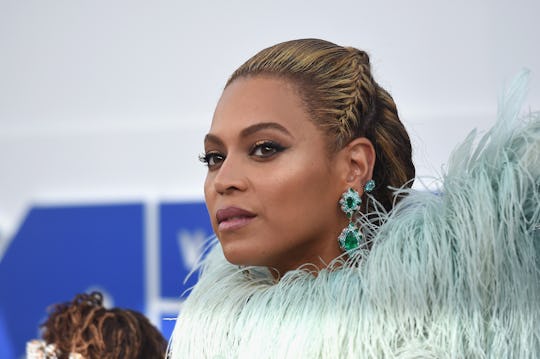 Jamie McCarthy/Getty Images Entertainment/Getty Images
Trump Supporter Says Hillary Clinton Needs To Denounce Beyonce, & It's So Strange
Just when we all thought that election season couldn't get more bananas, a Trump supporter wants Hillary Clinton to denounce Beyoncé and rap music because of their "lewd and bawdy language." Former New York Lieutenant Gov. Betsy McCaughey appeared on CNN on Monday night to discuss the aftermath of the now-infamous audio recordings in which Donald Trump bragged to Access Hollywood host Billy Bush about the ease with which he was able to kiss and grope women without their consent (assault them). (Trump has since apologized for the comments on the tape and called them "locker room talk.") McCaughey first caused host Don Lemon to crack up when she referred to the incident as "the first sign of trouble" in Trump's campaign.
But wait, she had an important point that she wanted to make: "I abhor lewd and bawdy language," said McCaughey. "I don't listen to rap music; I don't like that kind of thing." OK, and your point? "Hillary Clinton, she expresses that she finds the language on that bus horrific, but in fact she likes language like this: 'I came to slay, bitch, when he f*ck me good I take his ass to Red Lobster.'" McCaughey continued: "That happens to be a line from Beyoncé, her favorite performer, whom she says she idolizes and would like to imitate." And finally, "There's a lot of hypocrisy in Hillary Clinton expressing such horror at the language on the bus."
While nobody on the panel seemed to be taking McCaughey seriously, she wasn't specifically called out for her outrageous assertions, either, and she ought to be. McCaughey's argument is dependent on the idea that what Clinton, and the American public, found offensive about Trump's comments to Billy Bush was the sexually explicit language that he used (for those living under a rock, Trump said, among other things, that "when you're a star," you can do whatever you want to women, such as "Grab them by the p*ssy"). While some may take exception to the P-word, that's secondary to the fact that he was using it to boast about committing sexual assault. Beyoncé, on the other hand, was referencing consensual sex between two married adults, then dining at a midrange family seafood chain, which sounds like a Republican dream come true.
Besides all that, Clinton honestly probably doesn't even know the lyrics to "Formation." She doesn't "idolize" Beyoncé or want to "imitate" her. I don't think she's even a fan at all. She's never said anything negative about Beyoncé, but all evidence of her fandom is circumstantial: In December 2015, when asked at a town hall whether she would rather be president or Beyoncé, she chose president (obviously), then added, "I want to be as good a president as Beyoncé is a performer." That's a reasonable answer to a dumb question. In May 2016, when asked by Ellen if she liked Lemonade, Beyoncé's new "visual album," Clinton replied, "I have seen parts of it, and I do like it." What else could she have said, really?
Clinton's musical taste is not, and has never been, the point. The point is that the Republican nominee for president joked about assaulting women while the host of Access Hollywood giggled and agreed with him. Then, just moments after making degrading remarks about Emmy-nominated actress Arianne Zucker behind her back, the demanded hugs and kisses from her. More than one-third of Americans are still backing a candidate who proudly reinforces rape culture, and that is the point, not what Clinton's favorite song might be.