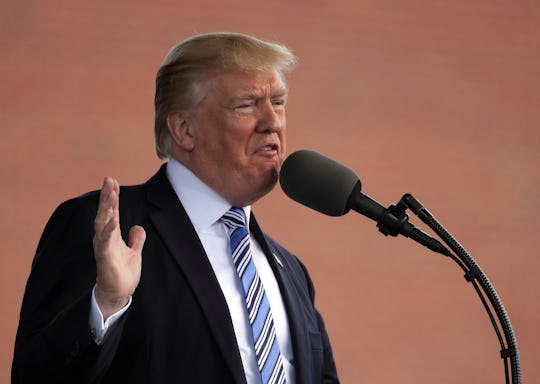 Alex Wong/Getty Images News/Getty Images
Trump To Expand Global Gag Rule, Hurting Women Worldwide
Back in January, President Donald Trump worried women's health advocates when he announced that he would reinstate the so-called "global gag rule" on abortion. And on Monday, the news got even worse, with reports that Trump would soon expand the global gag order, cutting foreign aid to international health providers who so much as mention abortion as an option to patients. The new policy could spell disaster for women worldwide, stripping them of the care they so desperately need.
The rule, also known as the Mexico City policy, was last put into action under President George W. Bush, before being rolled back under President Barack Obama. Now, Trump seems ready to expand the global gag rule to unprecedented levels, according to what a White House official told the Christian Broadcasting Network. Romper reached out to the White House for comment, but did not immediately hear back.
Reportedly, Trump's plan, "Protecting Life in Global Health Assistance," will apply the gag rule to $8.8 billion in funding coming from the State Department, USAID, and the Department of Defense. Whereas before the ban only affected about $600 million in funding and applied to organizations that dealt with family planning, a White House official told The Brody File, Trump's new aid policy will now "apply to global health assistance funding for international health programs, such as those for HIV/AIDS, maternal and child health, malaria, global health security, and family planning and reproductive health."
Given that the United States is the largest provider of foreign health aid, Trump's expansion of the global gag rule will have far-reaching consequences.
If a clinic is doing great work helping people with HIV, but it also happens to inform women about abortion options, poof! No more funding from the United States. Without that funding, the clinic will likely have to drastically scale back its services. Note that the same applies to organizations focusing on "maternal and child health," so the "Protecting Life" in the bill's title seems not to apply to very real children with very real needs.
According to the World Health Organization, more than 20 million women around the world undergo unsafe abortions every year. And, annually, 47,000 of those women die of complications from the procedure. As foreign aid is yanked away from organizations that inform desperate women about their choices, or that provide abortions in a safe and responsible manner, the number of women dying from unsafe procedures is certain to rise. And the number of women needing abortions in the first place will also go up, as organizations lose the funding they need to provide contraception.
Senator Jeanne Shaheen (D-NH), who introduced the Global Health, Empowerment, and Rights (HER) Act to permanently repeal the global gag rule, said in a statement,
President Trump's dangerous obsession with rolling back reproductive rights has severe consequences for millions of vulnerable women and children, and grossly undermines our nation's humanitarian leadership around the globe. We know that when family planning services and contraceptives are easily accessible, there are fewer unplanned pregnancies, maternal deaths, and abortions. Yet the Trump administration has chosen to ignore decades of research in favor of an ideological crusade that cuts off vital family planning services.
Trump's latest policy claims to be about "Protecting Life." But it will almost certainly lead to many more preventable deaths around the world.