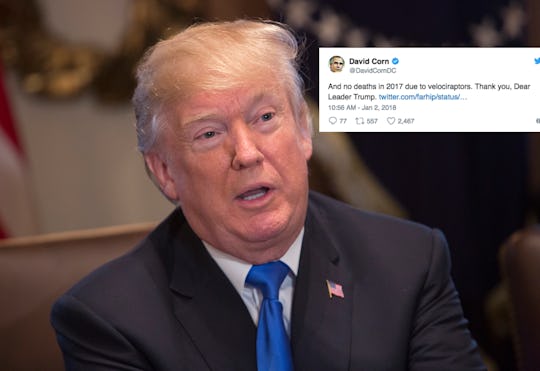 Pool/Getty Images News/Getty Images
Trump Revealed One Of His Biggest Successes Of 2017 & The Internet Is Cracking Up
New year, new random successes for President Donald Trump to take credit for. On Jan. 2, Trump took credit for a lack of plane crashes in the United States in 2017, writing on Twitter, "Since taking office I have been very strict on Commercial Aviation. Good news - it was just reported that there were Zero deaths in 2017, the best and safest year on record!" Considering that there have actually been zero commercial plane deaths since 2009, it was a strange thing for the president to take credit for — and Twitter users were quick to roast him for doing so.
The last American airline crash happened eight years ago, in February 2009, when a regional Colgan Air flight went down on its way from Newark to Buffalo and killed all 49 people on board. There have been other crashes around the globe since then, but none involving American airlines or taking place on U.S. land.
Not only that, but the dearth of commercial plane crashes last year was actually a worldwide phenomenon, not solely an American one. In fact, 2017 was the safest year in history for global aviation, according to a Dutch aviation consultancy, with only 13 deaths recorded (as a result of two separate non-commercial plane crashes).
Overall, social media users seemed to agree that it was just a bit of a reach for Trump to take credit for airline safety in 2017, and they didn't hold back in making fun of him for it.
Within hours, Trump's tweet received more than 17,000 comments, most of which poked fun at his claim. Several others pointed out that Trump's actual aviation safety record was pretty far from great: when the president opened up Trump Shuttle in 1989, it was only three months old before one of its planes had a crash landing, and the entire business venture survived for less than three years in total, according to The Boston Globe. In 2016, he blamed the airline's short life on "the depression."
Another thing to note, of course, is that Trump did change airline regulations last year — but not in any way that might affect safety. In January 2017, shortly after his inauguration, Trump signed an executive order that made the Federal Aviation Administration (and other agencies) review their existing regulations in an attempt to cut down on them. In September, as a response to the administration's desire to slash rules, an industry panel actually suggested eliminating a handful of safety rules (including one that affected pilot qualifications). And just last month, the Trump administration repealed a regulation that required airlines to reveal baggage fees as soon as customers began buying a ticket.
At the time, Connecticut Sen. called the repeal "unbelievable," tweeting, "Pulling the plug on rules that would ensure airlines are open and honest about bag fees and other charges is about as anti-consumer as it gets."
The public's reaction to Trump's tweet on Tuesday is particularly glorious because it highlights just how good social media is at using humor as a form of dissent and a method of coping. As studies on humor as dissent have pointed out, "humor has long been a tool against oppression" — from comics making fun of Nazis to funny graffiti about politicians' failed promises. It also, as New Tactics in Human Rights points out, serves as an effective form of stress relief during otherwise tense times.
Here's to keeping the hilarious tweets rolling in during 2018, no matter what strange happenings come our way. It looks like we're just getting started.
Check out Romper's new video series, Romper's Doula Diaries:
Watch full episodes of Romper's Doula Diaries on Facebook Watch.