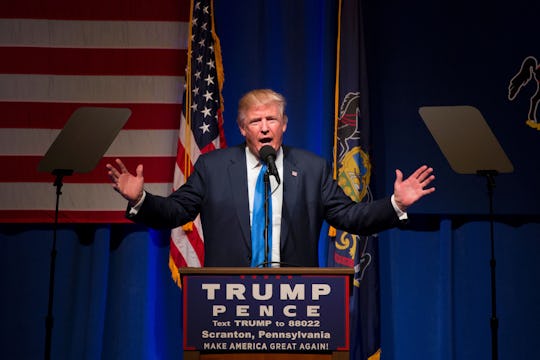 DOMINICK REUTER/AFP/Getty Images
Trump Tweets Throughout Election Day Show Just How Crazy Confident He Is
To say it's been a long presidential election cycle would be an understatement. Voters across the country are likely enthusiastic that election day is finally here, or too anxious about the results to function — or maybe a combination of the two. It's been tiresome, contentious, and nerve-racking. And Donald Trump tweets throughout Election Day describes exactly what's going through the Republican presidential nominee's mind. The day has come.
Trump and Democratic presidential nominee Hillary Clinton, have done an all-out push to sway voters in the homestretch of their respective campaigns. With an election cycle containing news of prior sexual misconduct allegations against Trump, and an explosion of leaked e-mails connected to Clinton up until last week, it's safe to say there hasn't been a dull moment since each nominee announced their candidacy for president.
And polling data has made the presidential race that much more concerning for all voters. On Nov. 1, Clinton fell one point behind Trump in an ABC News/Washington Post tracking poll — the first time Trump has led Clinton since May. Trump edged Clinton by one percentage point, with 46 percent of voters polling to support Trump compared to 45 percent for Clinton.
Trump has notably used Twitter as a go-to to express his thoughts throughout the presidential race. Here's what he has to say today:
Trump's tweets have been relatively reserved throughout the day, likely because his campaign staff took over his Twitter in the days leading up to Election Day, according to the Chicago Tribune. But if it starts looking like things are leaning in Clinton's favor, I'm wondering if his campaign staff will have a hard time keeping him off of his account, because he'll definitely want to tweet about the "rigged" election.
Update — That didn't take long:
Side note, as CNN pointed out, Trump's tweet about "voting machine problems across the country" was false, as there were isolated counties reporting issues.