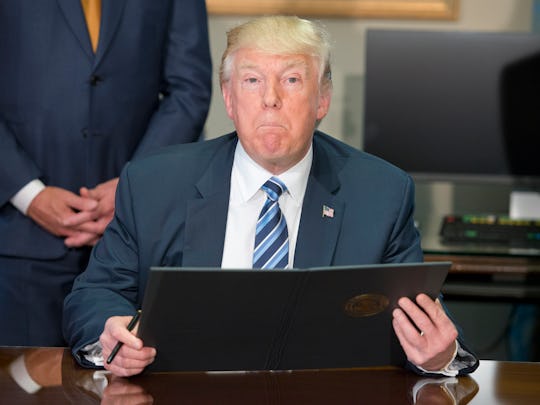 Pool/Getty Images News/Getty Images
Trump Will Speak At Holocaust Museum, Despite Missteps
Today, the White House is inhabited by someone who has drawn sharp rebukes from Jewish organizations, and is often celebrated by white nationalists disguising themselves as the so-called "alt-right." It's an interesting phenomenon, but definitely not a good one. And as President Donald Trump's remarks (and his silences) on the issue have been the source of much negative attention, this latest bit of news is a bit surprising: Despite his and the White House's many recent gaffes, Trump will speak at the Holocaust Museum on Tuesday, prompting many to wonder what exactly he'll say — and how he'll try to explain away his previous missteps.
Trump's speech will be part of the museum's commemoration of the Days of Remembrance of the Victims of the Holocaust, an eight-day period that has been held every year since 1979. Every U.S. president has spoken at the museum for the event since the museum opened in 1993, but Trump's participation is understandably questionable, as his official statement on the anniversary of Auschwitz-Birkenau's liberation, and many other issues, sparked negative commentary on Trump's ability to recognize and represent people of all cultures and religions.
According to the Holocaust Museum's press release, "President Donald J. Trump will deliver the keynote address at the U.S. Holocaust Memorial Museum's Days of Remembrance (DOR) ceremony in the Capitol Rotunda on Tuesday, April 25 at 11:00 a.m." The event will be live-streamed on the museum's website, but national coverage is also to be expected, as Trump's remarks are already highly anticipated.
This announcement comes just days after Trump expressed support for French presidential candidate, Marine Le Pen, a far-right Holocaust denier and supporter of Vladimir Putin. However, that isn't the only questionable choice Trump has made since taking office.
After bomb threats threatened Jewish community centers in February, and several Jewish cemeteries were attacked by vandals, Trump allegedly and (as far as we know) incorrectly claimed that it was perhaps "the reverse," of what people thought — that the attacks were supposedly carried out by Jewish people themselves, in order to "make others look bad," according to a report from BuzzFeed News.
This, along with Trump's lack of thoughtful responses or statements regarding the Holocaust, attacks on Jewish citizens, and support of Holocaust-deniers, all present a troubling dilemma for the president. Of course, his appearance Tuesday isn't too shocking, as it is typical for presidents to appear at the museum and speak — but his words will definitely be carefully analyzed, perhaps more than any other recent president, for how they measure up.
Regardless of political party, the U.S. president should be someone who recognizes the past struggles of humanity, and does his or her best not to repeat them, as well as bring people together. Trump has yet to prove himself to be an advocate for marginalized groups, both ethnic and religious, and his upcoming remarks will show just how much (or how little) attention he is paying to his critics and those concerned by his behavior.