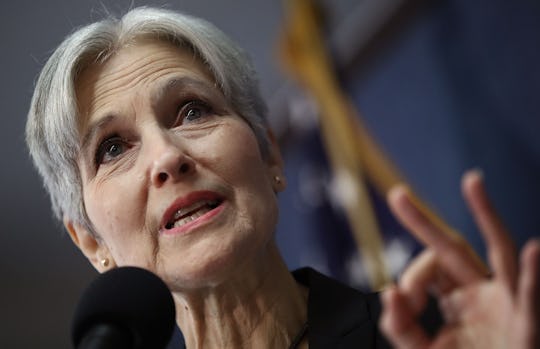 Win McNamee/Getty Images News/Getty Images
Trump Won Michigan By Fewer Than 11,000 Votes, But Does It Justify Jill Stein's Recount?
Michigan state officials announced on Monday, nearly three weeks after election night, that President-elect Donald Trump had officially won the state's 16 electoral votes. According to the Associated Press, the Board of State Canvassers certified Trump's win in Michigan with him having 10,704 more votes than Hillary Clinton. Since it's now confirmed Trump won Michigan by fewer than 11,000 votes, does it justify former Green Party presidential nominee Jill Stein's recount efforts? As always, people have varying opinions.
Stein has initiated recounts in three states — Michigan, Wisconsin, and Pennsylvania — and has led fundraising campaigns to execute her efforts. According to a fundraising tracker on her website, Stein's #Recount16 campaign has raised more than $6.3 million, with a $7 million goal – though reports show her initial donation goal was set lower at $4.5 million. The money raised from fundraising, according to Stein's website, is said to go towards filing fees, attorney fees, and "costs of the statewide recount observers in all three states."
Stein officially filed for a recount petition in Wisconsin last Friday, and one in Pennsylvania on Monday. The deadline to file a recount petition for Michigan is on Wednesday, and as of Monday Stein appears to be moving forward with the recount despite the state's election results. According to The Detroit News, Stein hired attorney and former Michigan Democratic Party chairman, Mark Brewer, for the recount efforts.
But many have opposed Stein's recount initiative. President-elect Donald Trump is unsurprisingly a part of the opposition. Trump has led a series of tweets condemning the recount efforts, referring to it as a "scam." He wrote on Twitter: "The Green Party scam to fill up their coffers by asking for impossible recounts is now being joined by the badly defeated & demoralized Dems."
Trump also insisted on Twitter that Clinton had already conceded the election, therefore making the recount efforts contradictory.
But in an interview with NPR, Stein noted that she's not expecting the recount to reveal a different outcome from the election, but instead claimed that the efforts are to ensure the voting system is secure, following recent reports suggesting otherwise.
"In my view, this is not likely at all to change the outcome, and that's what the computer and voting security experts say as well," Stein said in an interview on NPR's All Things Considered. "They are not expecting the outcome to change here. But it's the voters who benefit by standing up and saying we deserve a voting system that is secure in which we know our votes are being counted and our votes are being respected."
On Saturday, Clinton's campaign announced that it would participate in recount efforts, though Marc Elias, the campaign's counsel, noted that they have "not uncovered any actionable evidence of hacking or outside attempts to alter the voting technology." President Obama's administration has also announced it will stand behind " ... the election results, which accurately reflect the will of the American people...."
And as an article in The Nation and an opinionated piece in Slate, might indicate, the recount efforts may not have the support of everyone on the left – particularly considering the grassroots funds being raised, which could theoretically go towards other civil rights organizations and efforts.
Whatever the case, the recount effort continues its roll. According to NPR, a federal law indicates that all recounts be finished 35 days after the election — whether the effort actually uncovers any actual fraud will be revealed at that point, and likely not a moment sooner.