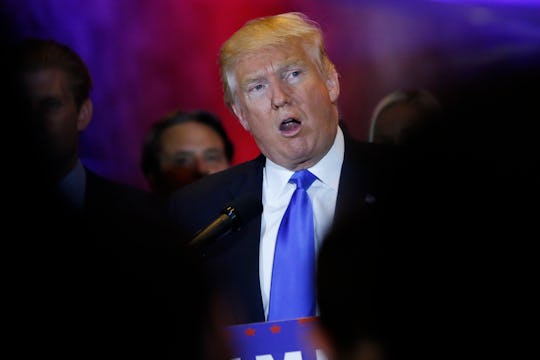 KENA BETANCUR/AFP/Getty Images
Trump Won't Take Presidential Salary, Promises Only To Take $1
During a pre-taped interview with CBS News' 60 Minutes that aired on Sunday night, President-elect Donald Trump promised he wouldn't take the presidential salary, saying it wasn't "a big deal" for him. This isn't the first time Trump had said he would forgo the $400,000-a-year presidential salary — it was a frequent promise he made during his campaign, as well. If he keeps his promise, Trump would become the third president to give up the presidential salary.
"No, I'm not going to take the salary. I'm not taking it," he told CBS host Lesley Stahl during his first interview since the election. "I think I have to by law take $1, so I'll take $1 a year."
Trump also told Stahl that he'd be skipping out on his regular vacations once he made it to the White House. "There's just so much to be done," he said, with his wife Melania nodding next to him. "So I don't think we'll be very big on vacations, no." (During his eight years in power, Pres. Obama has drawn Republican ire several times for going on vacation to Hawaii — although, according to MSNBC, Obama's number of vacation days seemed pretty measly compared to past presidents' time away.)
As early as last October, Trump promised he would forgo the presidential salary, telling supporters at a Rochester, New Hampshire rally, "The first thing I'm going to do is tell you that if I'm elected president, I'm accepting no salary, OK? That's not a big deal for me."
Forbes' latest estimate valued Trump at $3.7 billion in September, which would help explain why the business mogul would be willing to give up a steady paycheck for four years. But Trump would also likely be giving up his Trump Organization position as chairman and president. During the sixth Republican debate, back in January, Trump said he'd be willing to remove himself from the organization if he won the presidency.
"It's an interesting question because I'm very proud of my company," he said. "As you too know, I know I built a very great company. But if I become president, I couldn't care less about my company. It's peanuts. I want to use that same up here, whatever it may be, to make America rich again and to make America great again. ... I wouldn't ever be involved because I wouldn't care about anything but our country, anything."
In the past, former presidents John F. Kennedy and Herbert Hoover donated their salaries to charity, according to the Independent Journal Review. No word from Trump yet on what he'd do with his salary, but hopefully he'll pass it on to a worthy cause.