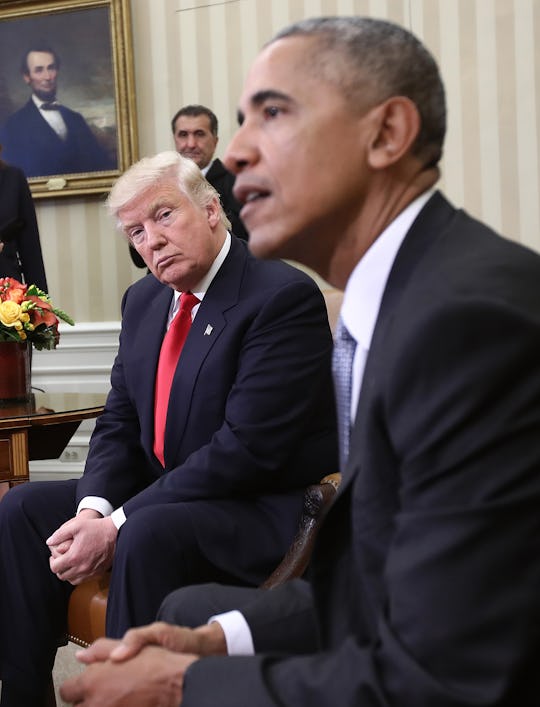 Win McNamee/Getty Images News/Getty Images
Trump's 2014 Tweet About Obama Missing Intelligence Briefings Is Even More Awkward Now
President-elect Donald Trump has not had the smoothest relationship with current President Barack Obama. In the past, Trump has used Twitter to make allegations about Obama that simply are not true, such as claims that the president was not born in the United States, prompting the now-notorious "birther" movement. The funny thing about Twitter, however, is that once something is on the internet, it usually can't be retracted. This has been the case multiple times over the past year, when Trump has been called out for the things he has previously said on Twitter, versus his current stances on a variety of topics, and this too is why Trump's 2012 Tweet about President Obama missing intelligence briefings is even more awkward now that Trump has said he "doesn't need" intelligence briefings either. Oops.
In the 2014 Tweet, Trump claimed that Obama had "missed 58 percent of his intelligence briefings" but attended "100 percent of his fundraisers." That rumor, however, had already been debunked by The Washington Post two years earlier, as it was revealed that no president in recent history has received intelligence briefings the same way and have all had different approaches. (Romper has reached out to the Trump transition team for comment on the earlier Tweet, and is awaiting a response.)
In 2012, The Post had reported that Obama preferred to receive oral briefings, just not as frequently as his predecessor, President George W. Bush. Even President Ronald Reagan reportedly skipped his intelligence briefings 99 percent of the time, according to The Post.
For his part, Obama attends his intelligence briefings as much as he can — according to The Huffington Post, Obama receives his briefings six days a week. Fact checker for The Washington Post Glenn Kessler brought the original 2012 Washington Post report back into focus this week after Trump's recent statements about intelligence briefings, further highlighting the irony of the situation.
According to CBS News, Trump has reportedly declined many of the intelligence briefings that have been offered to him so far — and he's maintained that that trend will continue once he moves in to the Oval Office. In an interview with Fox News Sunday's Chris Wallace, Trump claimed that the reason for this was that he "is a smart person" and that he does not want to be told "the same thing in the same words every single day for the next eight years."
Instead, Trump told Fox News Sunday that he would receive briefings once a week and that he will get the briefings "when he needs them." And while it is true that each president receives their briefings differently, as previously noted, according to former CIA director Leon Panetta, forgoing daily briefings for weekly ones is a little out of the ordinary — and not necessarily in a good way. "Every president I know — and I worked under nine presidents — has taken their daily intelligence briefings because that sets the agenda for what you have to focus on as president of the United States," Panetta told CBS' Face The Nation.
Trump's 2014 Tweet about Obama missing his intelligence briefings wasn't just wrong, it's also just plain awkward now. Trump may have forgotten about that Tweet once he became president, but as most people know, the internet remembers everything.