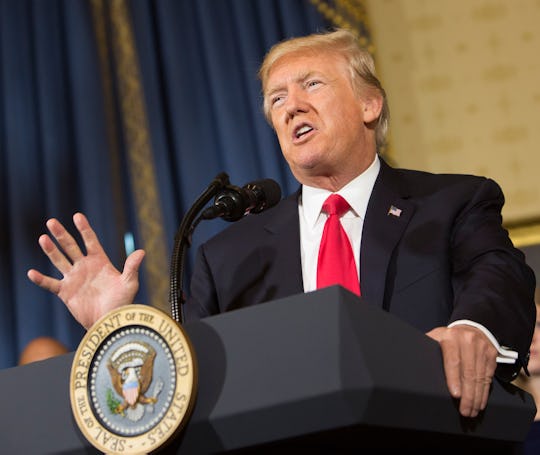 Pool/Getty Images News/Getty Images
Trump's Boy Scout Speech Left The Internet Very Unimpressed
On Monday night, President Donald Trump made an appearance at the 2017 National Scout Jamboree, a 10-day event in West Virginia hosted by the Boy Scouts of America. It's a somewhat customary presidential tradition: according to CNN, every sitting president since 1910 has served as the Boy Scouts of America's honorary president, and as a result, many of them have also attended the once-every-four-years event. Trump's campaign rally-style remarks didn't exactly go over well though, and tweets about Trump's Boy Scout speech suggest that he probably should have given a bit more consideration to his audience before taking the podium.
It's certainly no secret at this point that Trump is big on making off-the-cuff, unorthodox speeches that don't sit well with many people. And given that he also seems to particularly enjoy addressing large crowds, it's not entirely surprising that his National Scout Jamboree speech — an event that hosted more than 40,000 members, according to CBS News — ended up being a typically-boastful, Trump-style talk. But what is pretty surprising is that he seemed to entirely miss the memo about what the point of his speech was supposed to be. In a statement following the president's speech, the Boy Scouts of America emphasized that the organization "is wholly non-partisan," and that inviting the sitting POTUS was "long-standing custom," not an endorsement, according to CBS News. Yet that didn't stop Trump from discussing topics like Obamacare, winning the election over Hillary Clinton, and fake news.
Ironically, Trump actually began his speech by telling the crowd that he wouldn't actually be discussing politics, according to BBC News, and said, "Who the hell wants to speak about politics?" But apparently the answer was, well, that he did — and not everyone was happy about it.
Trump's speech quickly became a trending topic on social media, with many deriding the president's message as being inappropriate for an audience of primarily teenaged Boy Scouts:
While others said that they would have been surprised if he'd actually managed to not talk about himself and his political agenda:
But more than just being inappropriate, many Twitter users felt that Trump's speech was actually akin in indoctrination:
And many of the disappointed or angry tweets came from individuals either currently or formerly involved with the Boy Scouts specifically:
And a lot of messages criticized Trump's comments about President Barack Obama, whom he called out for not attending the Jamboree when he was in office (according to CBS News, Obama — a former Boy Scout himself — opted not to attend due to the organization's former policy of excluding gay members):
While other's argued that, POTUS or not, Trump shouldn't have even been invited to the event to begin with:
And then, well, there was this:
Judging by footage from Trump's Boy Scout Jamboree speech, the president appeared to be pretty pleased with his performance, and the crowd's size and enthusiasm. But it's clear that, today, the overall opinion on social media seems to be that he crossed a pretty big line with his speech for a variety of reasons, and that, once again, Americans are condemning the president's words and actions.
That's not exactly new, of course — Trump's presidency has been divisive since the very beginning. But the fact that his latest controversy surrounds what could have otherwise been a pretty benign speech to a group of teenaged boys was honestly pretty unexpected, even for someone as brazen as him.