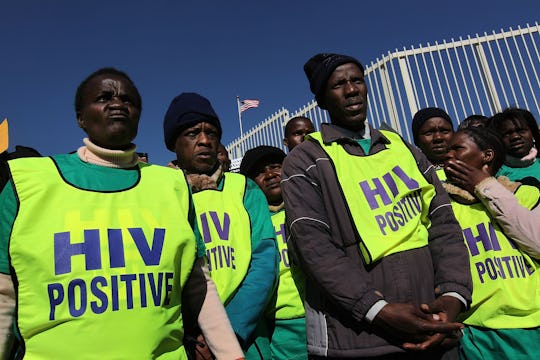 John Moore/Getty Images News/Getty Images
Trump's Budget Cuts Projected To Cause 1 Million Deaths
During his inauguration speech, President Donald Trump vowed to put "America first" during his tenure as president. This philosophy appears to be coming to fruition in the form of Trump's proposed federal budget. On Tuesday, the White House released details of Trump's budget, which features more than $1 trillion in drastic cuts to government spending, social welfare programs, and foreign aid. In one of the biggest direct impacts of the proposal, Trump's budget cuts could cause 1 million deaths in sub-Saharan Africa, according to The New York Times.
Among the many budget cuts are to foreign aid programs that provide HIV and AIDS treatment to Africans suffering from the disease, which still persists at epidemic levels across the continent. One of the biggest targets of the more than $10 billion in budget cuts to foreign assistance is the President's Emergency Plan for AIDS Relief, known as PEPFAR. Established by President George W. Bush in 2003, PEPFAR provides antiretroviral treatments for as many as 11.5 million people.
According to estimates by the Times based on calculations by amfAR, The Foundation for AIDS Research, Trump's budget cuts to HIV/AIDS programs abroad translate into 1 million deaths and more than 300,000 children orphaned in sub-Saharan African nations.
In 2016, PEPFAR received more than $6.8 billion in funding from the U.S. government, according to the aid program's website. The Global Forum on MSM & HIV notes that the United States is the single largest contributor to the global fight against AIDS. Despite earlier White House assurances that PEPFAR would remain untouched, the administration has apparently changed its tune once the final budget draft was released on Tuesday. It's a surprising move, given that PEPFAR has considerable bi-partisan support; the program was expanded significantly under President Barack Obama. Trump can expect pushback from Republicans on these particular budget cuts to PEPFAR and The Global Fund, another foreign assistance program passed during the Bush administration in 2002.
In April, President Bush himself penned an op-ed defending PEPFAR for The Washington Post, emphasizing the vital work the program he enacted nearly 15 years ago has accomplished in the African continent. "Saving nearly 12 million lives is proof that PEPFAR works," the president wrote. He continued, "I urge our government to fully fund it," noting that the world is "on the verge of an AIDS-free generation."
Texas Sen. John Cornyn has called Trump's budget proposal "dead on arrival," due in large part to the fact that the president's budget proposal represents a wish list — the federal budget isn't something the president signs into law. It's up to Congress to parse out the specifics of what gets federally funded and what gets cut, and the budget will often go through several versions before it's finally settled on in both houses of Congress. What Trump's budget does reveal is his administration's priorities, and the HIV and AIDS epidemic in African is apparently not among them.