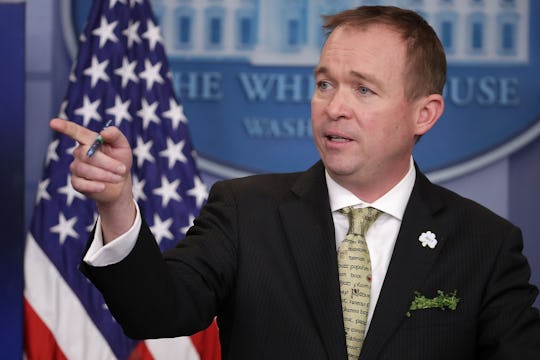 Chip Somodevilla/Getty Images News/Getty Images
Trump's Budget Manager Is Wrong On Free School Lunch
President Donald Trump's first budget blueprint was released on Wednesday, and although he spent his campaign promising to act in the best interest of Americans, the plan took aim at a number of social programs relied upon by millions of people in need. Trump's budget proposed major spending cuts to almost every single government agency, and also eliminated funding to some programs entirely — including The 21st Century Community Learning Centers Program, which supports before- and after-school programs, according to CNN. Why? In a news conference, Trump's budget manager said feeding hungry kids hasn't been proven to actually help them do better in school, so there's no need to keep providing money for it.
Office of Management and Budget Director Mick Mulvaney defended the Trump budget by arguing that the government wouldn't continue to fund "programs that cannot show that they actually deliver the promises that we've made to people." As a stand-alone statement, that might seem to make sense, but is it true that the school programs don't deliver?
Experts say there is actually plenty of evidence to show they're a good investment. Even if there weren't though, it still feels pretty shocking to hear Mulvaney try to claim that feeding hungry kids isn't a good use of federal dollars — especially since amidst the across-the-board cuts, the budget also calls for "a $2 billion down payment" on the creation of a border wall, according to The New York Times (because, of course it does).
According to the U.S. Department of Education, The 21st Century Community Learning Centers Program helps to fund "community learning centers that provide academic enrichment opportunities during non-school hours," and specifically targets students at "high-poverty and low-performing schools." In addition to offering literacy and other educational programs to students and their families, the centers give students a safe place to go before and after school (relieving parents' added burden for child care), and many programs funded by the 21st Century Community Learning Centers Program also provide snacks and meals to children.
When asked by reporters about the budget's slash of before- and after-school programs, Mulvaney said that they weren't actually achieving the goals they were designed to meet:
They're supposed to be educational programs, right? I mean, that's what they're supposed to do. They're supposed to help kids who don't get fed at home get fed so they do better in school. Guess what? There's no demonstrable evidence they're actually doing that. There's no demonstrable evidence they're actually helping results, helping kids do better in school.
Mulvaney's statement in itself is pretty confusing, because feeding kids isn't even the primary mandate of the 21st Century Community Learning Centers Program — academic enrichment is. But since he brought it up, let's look at that claim.
Although Mulvaney might think that feeding kids doesn't help them do better in school, it's not hard to find research to the contrary. A 2014 Centers for Disease Control report on health and academic achievement, for example, found that students' dietary behavior has a direct effect on school success, and that when students receive breakfast at school through the United States Department of Agriculture (USDA) School Breakfast Program, they see "increased academic grades and standardized test scores, reduced absenteeism, and improved cognitive performance." On the other hand, researchers have found that skipping breakfast (or not having access to breakfast in the first place) has been linked to "decreased cognitive performance (e.g., alertness, attention, memory, processing of complex visual display, problem solving) among students." And students who come to school hungry are also more likely to receive lower grades overall, be absent from school more often, are more likely to fail or repeat a grade, and have greater trouble focusing.
That is perhaps particularly significant given that, according to a 2015 report by the USDA, as many as 3 million households with children were food insecure, or in other words, about 7.8 percent of families in the United States were "unable at times during the year to provide adequate, nutritious food for their children." As a parent, I cannot possibly imagine how it must feel to not be able to provide your children with enough food (and I'm grateful at least that I can say that), but I can imagine that knowing that your kids could get breakfast, lunch, or snacks at school or during before- and after-school programs would have felt like a lifeline.
But the benefit of providing kids with meals isn't just an abstract idea: according to the USDA Food and Nutrition Services, the National School Lunch Program provided "nutritionally-balanced, low‐cost or free lunches to more than 31 million children each school day" in 2012, and has also provided reimbursement for snacks served to children up to 18-years-old in after-school programs since 1998. Programs that — you guessed it — are often funded through the 21st Century Community Learning Centers Program.
Let's assume though, that Mulvaney was confused when he discussed the value in feeding kids. Is it possible that he meant to suggest that before- and after-school programs are just not valuable from an academic standpoint, separate from any role they might play in providing meals? All in all, defunding the 21st Century Community Learning Centers program will free up $1.2 billion in Trump's budget, according to The Washington Post, and if they aren't actually beneficial, then perhaps there would be a better way to serve the 1.6 million children currently participating in before- and after-school programs through the initiative. But even then, he appears to be missing the mark.
The Global Research Family Project's Heather Weiss has studied after-school programs for nearly two decades, and she told The Washington Post that, actually, after-school programming "results in kids doing better in school," and that students who participate are "more likely to graduate and to excel in the labor market." In fact, a 2008 Global Research Family Project study found that,
Participation in after school programs is associated with better attitudes toward school and higher educational aspirations, higher school attendance and less tardiness, less disciplinary action (e.g., suspension), lower drop-out rates, better performance in school (as measured by achievement test scores and grades), ... improved homework completion, and engagement in learning.
The study also found that the benefits of after-school programs went beyond academics, and that student participation was linked to "decreased behavioral problems; improved social and communication skills ... and lower levels of depression and anxiety," and could also reduce the likelihood of "drug and alcohol use ... delinquency and violent behaviour ... [and] juvenile crime," in children.
In case Mulvaney is still not convinced, a 2015 report by the Afterschool Alliance on the impact of after-school programs found that teachers surveyed as part of a 2014 state-wide evaluation of 21st Century Community Learning Centers in Wisconsin,
Saw a number of academic improvements, including 73% of students improving their academic performance, 67% improving their class participation, 65% improving turning in their homework on time and 60% seeing improvements in their motivation to learn.
Similarly, a 2013 report of 21stCCLC programs in Texas by the American Institutes for Research found that students' school day attendance levels increased overall, and that even those with low levels of participation in the programs "decreased their absentee rate by 14 percent." All students were also more likely to be promoted to the next grade.
Of course, even without the evidence suggesting that before- and after-school programs are a good use of federal money, and even without the evidence suggesting that feeding hungry kids is going to help them, the fact remains that both of those things also just happen to seem like common sense. Mulvaney's insistence that defunding school programs is a pragmatic financial decision not only seems to ignore the actual facts that exist about these programs, but also ignores what should seem like convention wisdom. But hey, at least it means they'll be able to start building the wall, right?