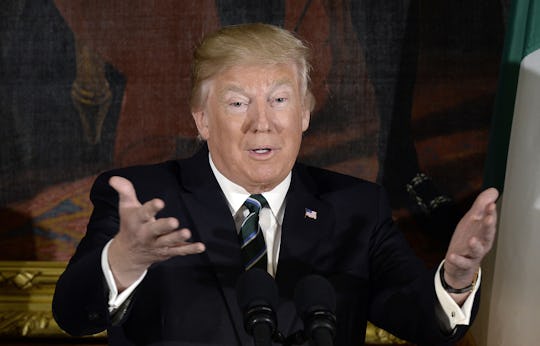 Pool/Getty Images News/Getty Images
Trump's Budget Shows He Refuses To Put Women First
The Trump Administration only released its proposed budget on Thursday, but the so-called "skinny budget" has already drawn plenty of scorn from activists and women's groups. Rightfully so: Trump's budget shows he refuses to put women first, regardless of whether we're talking about health care, discrimination in the workplace, or caring for children. And while a quick scan of the budget may not immediately reveal too many policies that could harm women, a deeper dive into Trump's proposed cuts reveals multiple ways the budget could set women back.
Trump's "budget blueprint" to "make America great again" proposes an extraordinary amount of budget cuts, with only three agencies — namely, the Department of Defense, the Department of Homeland Security, and the Department of Veterans Affairs — receiving budget increases, according to CBC. The cuts to other departments, though, including the Department of Labor, Health and Human Services, and several others, could disproportionately affect women and minorities.
"The president's budget may be 'skinny,' but packed inside are some of the largest and most damaging funding cuts we have seen in decades," Teresa Younger, president and CEO of the Ms. Foundation for Women, said in a statement on Thursday. "The proposed $54 billion in cuts to domestic programs to fund the military would be most acutely felt by our most vulnerable communities, including those with the lowest wages, struggling to maintain housing and pay their bills. ... Women, who are the primary earners in 40% of households but experience greater economic insecurity, would be disproportionately harmed in the process."
Here are a few ways women could be affected by those cuts.
The Women, Infants, and Children (WIC) Program Would Take A Hit
The WIC program funds efforts to keep pregnant and postpartum women, infants, and children healthy. According to Vox, this program is the only women's health initiative mentioned in Trump's budget proposal — and the government wants to slash its funding by $150 million.
Labor & Justice Department Cuts Could Equal Increased Inequality
Trump's proposed budget would see both the Department of Labor and the Department of Justice take serious budget cuts of 21 percent and 4 percent respectively. That could affect enforcement of equal pay laws, and push back progress in areas like paid leave and workplace harassment and discrimination.
"This should be a time when we're trying to improve opportunities for women in the workplace, making it more family-friendly, eradicating pay discrimination and sexual assault and harassment," Debra Ness, the president of the National Partnership for Women and Families, told MarketWatch.
Job Training & Employment Programs Would Suffer
The massive $2.5 billion budget cut to the Department of Labor would also kill the funding of job training and employment programs, which benefit unemployed Americans, disadvantaged youth, and seniors, according to the CBC. Job training and employment programs can help low-income women increase their earnings and boost their employability, giving them economic security and a steady career path.
State Department Cuts Would Threaten Women's Health Abroad...
The Trump Administration wants to cut State Department funding by 28 percent (or $10.1 billion). A large part of those savings would come from decreased contributions to the United Nations, and activists have warned that those cuts could put the lives of thousands of women and girls in danger, according to The Guardian. Without funding to back UN population fund (UNFPA) projects, Syrian mobile clinics that have supplied women with family planning and safe areas to give birth amidst the country's civil war would be closed, and work against gender-based violence in Haiti would end.
... & At Home
As Trump's administration takes aim at the Affordable Care Act and Planned Parenthood, many women are worrying about their reproductive health and the many essential services they may lose access to. Trump's proposal aims to cut the Department of Health and Human Services' budget by 18 percent (or $15.1 billion), at a time when women's health care is already being attacked and in a world in which women are often underserved in healthcare systems.
Women May Have To Do More Unpaid Work
It's no surprise that women are often the unofficial, unpaid caretakers of the family when it comes to looking after children and older relatives. In fact, according to the Family Caregiver Alliance, 66 percent of caregivers are female, and the value provided by women's informal caretaking is equal to $148 billion to $188 billion a year.
Trump's budget aims to cut all funding to the Community Development Block Grant and the 21st Century Community Learning Centers program. These programs help fund recreational projects for youth and provide services that range from childcare facilities to Meals on Wheels care for seniors. They largely fund services that help seniors, disabled people, and youth — and without all of that federal help, caregiving will fall more often to women, who often won't be able to provide that same level of care or will attempt to fill in the gaps without pay.
Budget Cuts In General Could Mean Women Will Lose Jobs
Budget cuts mean public sector employees will face job losses, and according to Democratic National Committee chair and former Labor Secretary Tom Perez, that means women and minorities will suffer.
"Federal government has been a gateway to the middle class for people of color for generations," Perez told Fortune. "I am proud of our diversity, and when you attack the federal workforce you are having significant impact on women — many of whom are single moms working to support their family — and you're having a significant impact on communities of color."
Luckily, the proposed budget is still just that — a proposal. If you take issue with any of the Trump Administration's suggested changes, call your representative and make your voice heard.