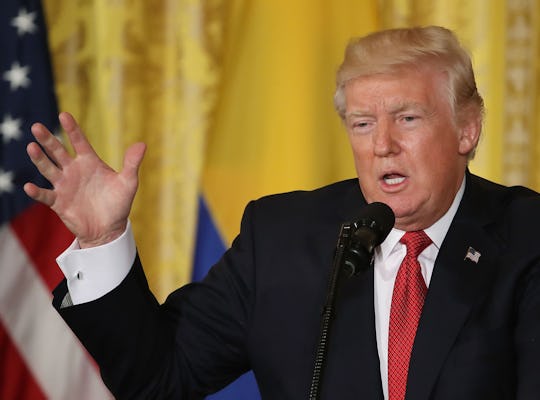 Mark Wilson/Getty Images News/Getty Images
Trump's Budget Would Cut Children's Health Insurance
President Donald Trump's proposed budget is set to cut the Children's Health Insurance Program by at least 20 percent over the next two years, as well as cut Medicaid, which covers millions more kids, according to CNN. If Trump's budget will cut children's health insurance and millions will lose coverage, what will states have to do to try to keep children covered?
The Children's Health Insurance Program, also known as CHIP, has 8.9 million children enrolled. Between it and Medicaid, the programs cover around one in three American children, as reported by the Kaiser Family Foundation. Over the next 10 years, the budget proposed by Trump would cut Medicaid by more than $800 billion — affecting millions of children. So slashing funding for CHIP would be an added blow for the countless kids who rely on these programs for health care.
According to CNN, Trump's proposed budget, which was released Tuesday and is entitled "A New Foundation for American Greatness," would be a hard hit to children's health care if it passes as it currently stands. It would also break Trump's campaign promise to save Medicaid "without cuts," according to that outlet — something he talked about on the campaign trail as well as tweeted about.
CNN reported that the Office of Management and Budget Director Mick Mulvaney said Monday that Trump "personally approved" every cut, in spite of his vows not to mess with Medicaid. Other cuts that Trump approved that would impact low-income Americans and their families include aid like food stamps, student loan programs, the earned-income credit, and more.
Plus, spending on the Child Tax Credit would be reduced, according to Bloomberg. So millions of kids would lose their health coverage under the current proposed budget, and millions of parents may lose a tax credit for their children that they've received in the past. Who wins here, exactly? Didn't Trump promise we'd be winning all the time when he became president?
The San Francisco Chronicle reported that the Children's Health Insurance Program has "traditionally enjoyed bipartisan support," and that Trump's budget would extend the program for two years — but that it would also cut $5.8 billion from it. According to CNN, Newt Gingrich's Congress passed the legislation, and it was signed into law by a Democrat, President Bill Clinton. So from the start, support for CHIP crossed the legislative aisle.
However, the outlet reported, CHIP hasn't always received universal support. President George W. Bush once vetoed an expansion of the program, and the current Health and Human Services secretary, Dr. Tom Price, voted against expanding CHIP twice during his time in Congress.
The Children's Health Insurance Program was created in 1997, and runs on a blend of federal and state funds, CNN reported. Through it, well-child visits are free and, depending on the state, families may only be charged a small cost for other benefits. It sounds like something most politicians would want to get behind.
But the effectiveness of CHIP and other welfare programs is sometimes questioned. Still, according to CNN, studies have indicated that these programs "reduce avoidable hospitalizations and child mortality and improve the quality and consistency of care they receive." That outlet also cites studies that show better health care also mean better grades, graduation numbers and productivity.
Currently, a record number of children have some form of health insurance. Lisa Shapiro, the vice president of health policy with First Focus, a nonpartisan advocacy group for children and family policy issues, told CNN:
Just over 95% of kids are covered. It is the highest it's ever been, and we don't want to take any steps back...We are super disappointed with the whole situation surrounding CHIP. We don't want to be playing with that success.
If CHIP is cut at the federal level, some states might be able to fund the program through 2018. But Shapiro told CNN that states and the families who are served by the program need time to plan and look for other options, and the current proposed budget wouldn't give them much of it.
However, both the House and Senate have to vote on budget proposals, and the current proposal likely won't pass exactly as it is now. Some experts believe Congress will keep the funding going for CHIP, in spite of Trump's suggested cuts.
If you feel strongly about stopping the proposed budget cuts to the Children's Health Insurance Program, contact your representatives about the issue now.