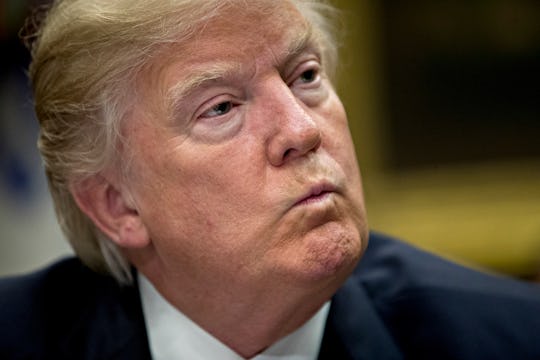 Pool/Getty Images News/Getty Images
Trump's Cabinet Might Break The "No"-Vote Record
President Donald Trump's Cabinet picks have encountered their fair share of criticism from the public — and it looks like things haven't gotten easier for the nominees now that they're facing Senate confirmation. According to The Washington Post, Trump's Cabinet could get more "no" votes from the Senate than any other Cabinet group has in the past, making the opposition to Trump's picks pretty historic.
They haven't broken any records yet, but if Trump's nominees continue to face the amount of opposition they've seen so far, they could easily outpace the number of "no" votes Obama's Cabinet received (over the course of two terms, Obama's Cabinet racked up a record-breaking 406 "no" votes from opposing senators). However, eight of Obama's initial Cabinet picks were confirmed easily — through either a voice vote or passed unanimously — while virtually none of Trump's Cabinet nominees have floated through without opposition.
Trump's remaining picks are expected to encounter just as much resistance in the Senate, if not more. On Tuesday, the Senate voted on Betsy DeVos to head up the Education Department, one of Trump's most controversial picks. Vice President Mike Pence was DeVos' tie-breaker in one of the tightest Cabinet votes, and zero Democrats voted in favor of her appointment. According to The Guardian, even two Republican senators opposed her confirmation.
So why is Trump's Cabinet set to shatter opposition records? It comes down to a couple of things. First off, many of Trump's top picks have been controversial: Educators across the United States criticized DeVos' nomination, while nearly 450 former Environmental Protection Agency employees railed against having climate change denier Scott Pruit's nomination to lead the agency. Claims of racism kept Trump's pick for attorney general, Jeff Sessions, from a federal judgeship in the past, and Rex Tillerson's connections to big oil and Russia led many Americans to question whether he was the right fit for secretary of state.
A lot of Trump's Cabinet nominees also hold strict, conservative views on hot-button topics like gun violence prevention, abortion, climate change, and immigration. In the last few decades, senators have increasingly voted against the opposition party's Cabinet picks, due to both growing tensions and an expanding difference in the parties' policies. According to a 2016 Pew study, Democrats and Republicans' views of each other are more negative now than they have been in the past 25 years, and members of both groups express frustration, fear, and anger over the other major party's views.
This has all fed into some of the fiercest fights the United States has seen over a presidential Cabinet. Not all of the positions have been filled yet, either, so Americans can expect to see more "no" votes stack up before Trump's Cabinet is set in stone.