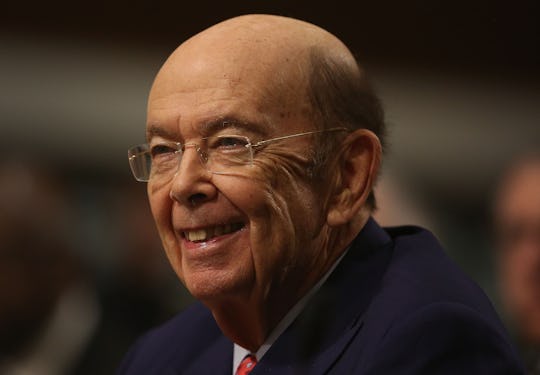 Joe Raedle/Getty Images News/Getty Images
People Are Not Happy About Wilbur Ross's Slippers
It's no secret that President Donald Trump has stocked his Cabinet with billionaires, and most people can agree that billionaires are generally out of touch with your average American. But those points were neatly driven home on Tuesday night when Wilbur Ross, the newly appointed secretary of Commerce, wore slippers to Trump's speech to the joint session of Congress. The citizens of Twitter took notice right away, and they were not pleased.
Wearing slippers to such a formal event is a surefire way to raise eyebrows, but Ross isn't just any old eccentric billionaire, and these weren't just any old slippers; they were handmade custom velvet slippers by Palm Beach boutique Stubbs & Wootton, a company that refers to itself as "Vanguards in the renaissance of the iconic slipper" and takes credit for "making evening slippers relevant once again." The company specializes in "bespoke" slippers (a pretentious term for custom-made) starting at $525 if customers choose one of the many designs available online. Not pictured on the website is the design Ross sported, the official seal of the Department of Commerce. One could infer that the one-of-a-kind design added an extra charge. There's no word on whether Ross ordered the slippers himself, or if they were a gift from a similarly wealthy friend (or boss). Romper has reached out to the Department of Commerce for comment.
"There's 'rich' and then there's 'grown man wearing customized slippers in public' rich," one Twitter user wrote. Another called the look "sickening." Many can relate to being excited about the first day of a new job, but was this an appropriate way to celebrate it? Was Ross trying to exemplify how he'd promote economic growth in the United States by purchasing overpriced slippers made in Europe? The average American would have to spend half a week's pay in order to afford the lavish footwear.
Also worth considering is the possibility that the slippers were a calculated and intentional distraction, a strategy many accuse Trump of employing in order to draw attention away from more important, but less attention-grabbing news. Few outlets, and even fewer average citizens, are discussing the recently revealed connections between Trump, Ross, and the Bank of Cyprus. The story was quietly reported by McClatchy DC on Sunday, then picked up on Monday by MSNBC's Rachel Maddow, who elaborated on how Ross, Trump's longtime friend, is a majority stakeholder of the bank long accused of laundering money for Russian oligarchs. Another notable stakeholder is Russian "King of Fertilizer" Dmitry Ryvoloviev, who, during the height of the real estate crash, purchased a mansion from Trump for $95 million, despite the fact that Trump had paid only $35 million for it four years prior. Reps for Ross and Trump did not reply to a request for comment.
Despite the White House's refusal to provide answers on Ross' Russian ties, the new secretary was confirmed on Monday. But let's keep talking about those slippers.