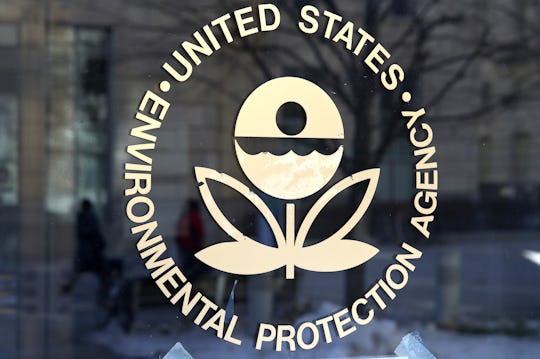 Justin Sullivan/Getty Images News/Getty Images
Trump's EPA Green Lights A Dangerous Pesticide
Add this to the list of Obama-era policies President Donald Trump is doing away with: A pesticide ban. On Wednesday, Trump's EPA approved the use of a pesticide that's especially dangerous to children, despite evidence that chlorpyrifos, the pesticide in question, has negative effects on children's I.Q.s and nervous system functionality, while also causing attention deficit disorders. Romper has reached out to the Trump administration for comment but has not heard back at this time.
Way back in 2000, the chemical was banned from use in household products due to evidence signifying its detrimental impact. In 2015, President Barack Obama's EPA proposed that the pesticide not be used on food, after the agency found "evidence that prenatal exposure can pose risks to fetal brain and nervous system development."
The insecticide in question, chlorpyrifos, was not banned by the EPA this time around, however, despite its measured danger. Scott Pruitt, the head of the EPA "rejected a petition filed a decade ago by two environmental groups that had asked that the agency ban all uses of chlorpyrifos."
"EPA turned a blind-eye to extensive scientific evidence and peer reviews documenting serious harm to children and their developing brains, including increased risk of learning disabilities, reductions in IQ, developmental delay, autism and ADHD," warned Mirian Rotkin-Ellman, Senior Scientist at Natural Resources Defense Counsel. "Today's decision means children across the country will continue to be exposed to unsafe pesticide residues in their food and drinking water," she asserted. Given the fact that "infants and children are more sensitive to the toxic effects of pesticides than adults," giving chlorpyrifos the go-ahead spells huge risks for babies in utero.
Lobbyists looking to keep the pesticide legal asked that the EPA reject its widely researched findings in favor of allowing chlorpyrifos use. In the wake of Wednesday's decision, Pruitt disregarded the evidence, stating: "By reversing the previous administration's steps to ban one of the most widely used pesticides in the world, we are returning to using sound science in decision-making — rather than predetermined results."
Thus, chlorpyrifos will remain a staple in American agriculture. Citing "a lot of scientific uncertainty about the risks of chlorpyrifos," the agency pushed off a final decision on the chemical's safety indefinitely. It's hard to understand how multiple, conclusive studies can be interpreted to "uncertainty." For now, it seems that mothers looking to protect their unborn children from behavioral issues, nervous system issues, and decreased I.Q. are safest sticking with naturally grown, pesticide-free food — at least until the EPA is no longer so "uncertain."