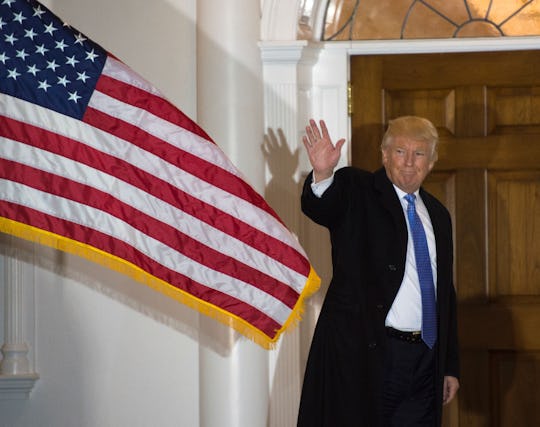 DON EMMERT/AFP/Getty Images
Trump's Financial Ties To Big Oil Are Deep, & Many Fear Effects On American Energy Policy
He hates regulations and called climate change a hoax, what's not to love? The energy industry is positioned to win "bigly" with the election of Donald Trump to the White House. But it's not just an interest in creating jobs that attracts the new President-elect to such matters. Trump's financial ties to big oil are deep, and like so many of the potential conflicts of interest swirling around the new administration, setting energy policy favorable to the biggest companies in the industry wouldn't just impact the American economy, but potentially also Trump's own wallet. The Trump campaign didn't respond to Romper's request for comment regarding whether it will divest Trump's energy investments or cut all ties to energy before changing or influencing energy policy.
"We are looking forward to President Trump doing what he promised, which is to undo many of the onerous regulations that have plagued our industry throughout an Obama presidency," Harold Hamm, chief executive officer of oil producer Continental Resources Inc, told Reuters following the election.
Reuters also reported that Hamm has been considered by Trump for the post of energy secretary.
And why wouldn't Trump want to make America great for energy and oil producers again? According to a report from The Guardian, Trump has more than simple political motivations to get behind big oil projects like the highly controversial Dakota Access Pipeline. The Guardian reported that Trump has "close finanical ties" to Energy Transfer Partners, the company behind the DAPL. Trump's own financial disclosure shows he has somewhere between $500,000 to $1 million invested in ETP, and $500,000 invested in Phillips 66, another big oil company with a 25 percent stake in DAPL, The Guardian found. It's also worth noting that ETP's CEO donated $100,000 to Trump's presidential campaign, according to The Guardian.
And while Trump hasn't been eager to share nitty-gritty details about his policy positions or plans, he did take the time at a campaign speech in Gettysburg, Pennsylvania just days before the election to lay out a vision for oil and energy production in America, Trump said, according to The Guardian:
We have roadblocks like you've never, ever seen – environmental blocks, structural blocks. We are going to allow the Keystone pipeline and so many other things to move forwards. Tremendous numbers of jobs and good for our country.
The people closest to Trump also have been on big oil's payroll. Former New York Mayor Rudy Giuliani has been one of Trump's staunchest defenders and has been very vocal since the election about his interest in being appointed to Secretary of State. But Giuliani's business dealings over the past several years reveal employers and relationships with some of the most unseemly characters in the entire world including a North Korean mob boss and the group Mujahedin e-Khalq, which has been identified by the U.S. government as a terrorist organization, according to Salon. Giuliani also reportedly made money lobbying for Citgo, the state-owned Venezuelan oil company and the Saudi Arabian oil ministry, Salon reported.
In addition to Giuliani, Politico reported that Forrest Lucas, the founder of Lucas Oil, is one of the top contenders to get tapped to be Trump's Interior Secretary — you know, the person in charge of managing the nation's natural resources.
Can Americans rely on the Trump administration to put their interests ahead of its own personal financial gain? There has been little evidence to reassure voters that the Trump presidency will be little more than an extension of his own business empire, including his connections to big oil.